Texas Rangers Take Back Spot Atop A.L.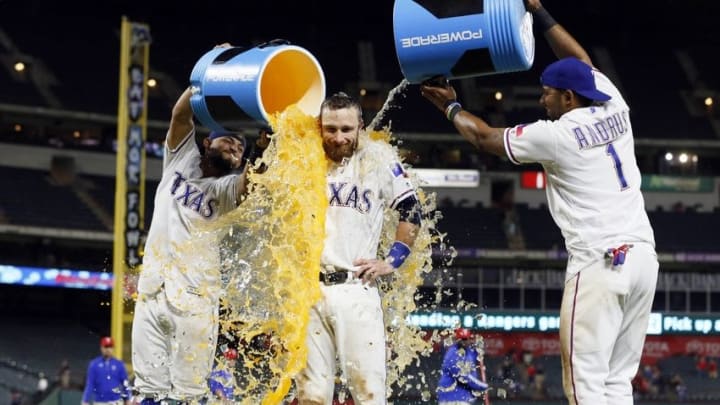 Sep 27, 2016; Arlington, TX, USA; Texas Rangers second baseman Rougned Odor (12) and shortstop Elvis Andrus (1) pour water and Powerade on catcher Jonathan Lucroy (25) after the game against the Milwaukee Brewers at Globe Life Park in Arlington. Texas won 6-4. Mandatory Credit: Tim Heitman-USA TODAY Sports /
The Texas Rangers are in a dead heat for the top spot in the A.L. and took advantage of the Boston Redsox 11 game winning streak ending. The Milwaukee Brewers were in town and a familiar face provided the pivotal blow from the Rangers.
Que the usual script for the Texas Rangers this year, they came back and won a game again, this time it was a 2 run win instead of just the boring 1 run win. Starting pitcher A.J. Griffin struggled again by only making it through 4.3 innings while giving up 7 hits, 4 runs, 2 homers, and only 4 strikeouts all in 74 pitches.
Griffin has not fared well as of late but the bullpen was able to calm things down again and allow the Rangers offense a chance to catch up. This win was the 40th of the year for the bullpen which is just one-off of the MLB record, with 4 games left that may happen.
Offensively the spark plug for the Rangers was Carlos Gomez who destroyed a pitch by sending it into the upper deck in left field in the 3rd inning. After that they took advantage of a situation by Jonathan Lucroy slapping a double which allowed 2 runs to score. The Rangers captain Adrian Beltre would add an insurance run in the 7th.
More from Texas Rangers News
Some points of emphasis from this game were just continued storylines that have assisted the Texas Rangers in wins all year-long. Tony Barnette was able to return from injury with a great outing and recorded the win by allowing 2 hits, 0 runs, and 2 strikeouts all in 1 inning. Kela, Bush, and Dyson rounded off the win with just Dyson having a bit of trouble by allowing 2 walks before taking care of business.
Mid-season trade acquisition Carlos Beltran had an electric dive in right field which he probably got the spunk from recording his 1st stolen base in basically 2 years a bit earlier. The Rangers other Carlos (Gomez) continues to provide what is needed out of the leadoff spot with his 3 shot homer tonight.
Something to be aware of would be Rougned Odor staying cold at the plate going 4/41 since September 15th, seeing an 0/22 straight at bats as of late. Hopefully Rougie is able to find his swing again within these last 4 games.
The Texas Rangers now have a .5 game lead on the Boston Redsox and they hold the tiebreaker as well. It is interesting to see if they would rather finish in 2nd place and take on the Cleveland Indians who are having pitching issues with injuries as of late.
Next: Texas Rangers And The Possible Return Of Choo
Who would you rather play first round of the playoffs, Cleveland or the wildcard team who should be (Toronto, Baltimore, or Detroit)? Join the conversation on our Facebook and Twitter pages!