Texas Rangers Prospect Radar: Kyle Cody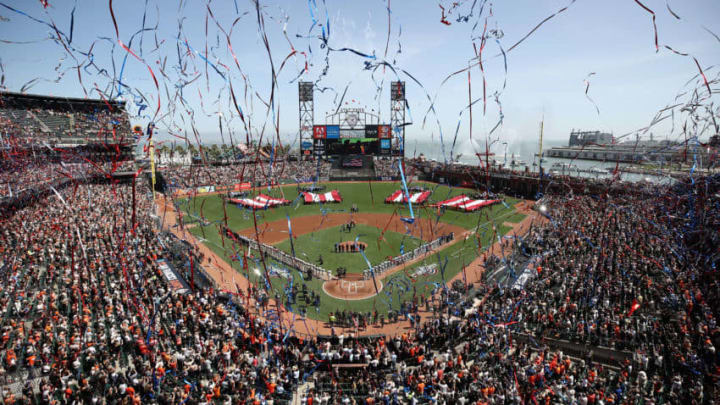 SAN FRANCISCO, CA - APRIL 03: Players for the Seattle Mariners and the San Francisco Giants line up for the National Anthem before their game at AT /
The Texas Rangers have a farm system full of future talent and will look to develop players like, Kyle Cody, into future stars.
The Rangers are just a few days away from making a selection in the first round of the 2018 draft. Even with the newcomers on their way, Texas still has a number of talented youngsters within the organization. Using the MLB.com Prospect Watch rankings, we're taking an in depth look at the Rangers top prospects.
Background
The Rangers drafted pitcher Kyle Cody in the 6th round of the 2016 draft. The right-hander came to Texas by way of the University of Kentucky and was once a 2nd round pick by the Twins who then pulled out of the signing due to concerns about Cody's elbow. At 6'7″ and 245 lbs., Cody has a very impressive frame that helps him create a lot of life on his fastball. Kyle Cody is just 23-years old and is likely another year or so away from being near ready for Major League Baseball. He is currently listed as the number 8 player in the Rangers system.
Scouting Report
The most impressive attribute Kyle Cody has besides his large frame of course is his powerful fastball. A heater that usually sits in the mid-90's and can reach 97-98 from time to time, it's considered a plus pitch by scouts and his most effective pitch overall. His second best pitch is probably his slider with is considered above average. With sure a big frame, he's at an advantage if he can develop a bit more control with that breaking pitch. His changeup, as well as his control are both considered fairly average and could use some work. The hope is that he can develop those a bit more and work himself into a middle rotation pitcher.
Minor League Service
Cody has not played this season due to some elbow inflammation but impressed in 2017. After his rough pro debut in 2016, Cody followed it up with a 9-6 season and a 2.64 ERA splitting time between High-A Down East and Single-A Hickory. The feeling is that when he started using his slider more often, he became more effective as a pitcher. In 126 innings pitched in 2017, Cody struck out 136 batters, a good ratio.
Expectations
Kyle Cody is still at the very best a year away from the big leagues. His timetable is strongly affected by whether or not he can get past this elbow inflammation issue. If he can, and develops like is expected, he can crack a Major League rotation. If he's able to hit what many think to be his peak, he could very well be a number three starter which the Texas Rangers no doubt would welcome.