What defines a successful season for the Texas Rangers?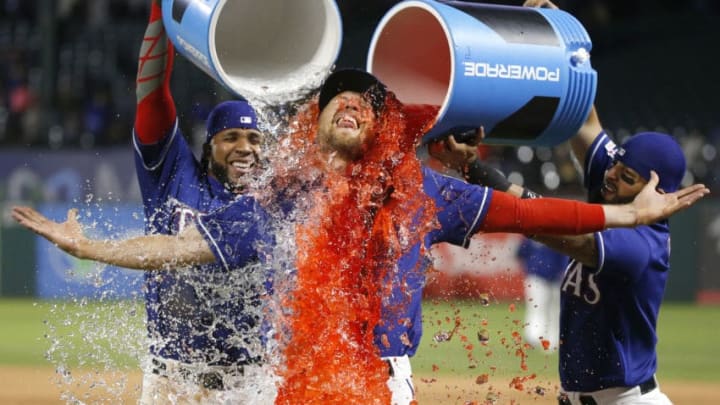 ARLINGTON, TX - APRIL 3: Hunter Pence #24 of the Texas Rangers is given a Powerade bath by teammates Elvis Andrus #1, left, and Rougned Odor #12 at Globe Life Park in Arlington on April 3, 2019 in Arlington, Texas. The Rangers defeated the Houston Astros 4-0. (Photo by Ron Jenkins/Getty Images) /
The Texas Rangers are off to a nice start, but they're far from a finished product. Given their youth and recent transition, what can make this season a success?
As all Texas Rangers fans should realize, a long season full of twists and turns lies ahead. A lot happens over 162 games, though they haven't given us much to dislike over their first 18.
Having won four of their last five, the Rangers currently own a 10-8 record, which is third best in the division. At least for now, they're a contending bunch. Their extreme consistencies are concerning, however. Texas started on fire at 5-2, then fell below .500 four games later, and are now back to two games over.
They're a young team that will surely sneak up on a few opponents this year, but their youth will also lead to many growing pains throughout. With inconsistencies likely and the playoffs unlikely, what can be considered a successful season for the Texas Rangers?
ARLINGTON, TX – SEPTEMBER 22: Mike Minor #36 of the Texas Rangers pitches in the first inning against the at Globe Life Park in Arlington on September 22, 2018 in Arlington, Texas. (Photo by Richard Rodriguez/Getty Images)⁸ /
First off, Mike Minor has performed as the ace Texas greatly needed in the early going. He is 2-1 with a 2.60 ERA, and his complete game shutout Tuesday night was the first for the franchise since May of 2017. Already gauging interest from the Mets and Phillies, Minor could turn out to be a quality trade chip for the rebuilding Rangers. That said, the longer he sticks around, the better the team will be in 2019.
Even with Minor though, the pitching staff is very shaky. If GM Jon Daniels really wants to remain competitive, he'll have to make a few moves to add strength to the rotation and to the back of the bullpen (Jose Leclerc aside).
More from Texas Rangers News
The good news is Daniels has a long history of finding bargain relievers that turn into great weapons. On the other hand, his history of acquiring impactful starting pitchers is not so notable. He may make a few minor acquisitions to try to keep the team afloat, but don't expect Daniels to go anywhere near overboard as the season plays out.
Chances are the Rangers stick with their current group for much of the year. I believe their offense can continue to be a force all season, especially with Gallo performing so well in the clutch. Elvis Andrus is off to a tremendous start, Shin-Soo Choo is doing his usual on-base thing, and the team has gotten nice contributions from players like Asdrubal Cabrera and Danny Santana.
The offense has plenty of ability to keep up their pace. That pace is roughly 5.5 runs per game so far this year.
Again, the pitching is scary and it's hard to see the Texas Rangers making any sort of playoff run with the collective arms currently on their roster. If they somehow find a way to make the playoffs, the season would be considered an obvious success.
A playoff berth would be amazingly unexpected for a team that was predicted to finish dead last in just about every pre-season projection. Texas' encouraging start is a great testament to the underappreciated talent on their roster. It's still hard to see them making the postseason, but to me, postseason/no postseason doesn't define their 2019 success.
What defines a successful season for this Rangers team is what you're already seeing: previously impatient hitters taking counts deeper and deeper, young guys producing in the clutch, Andrus taking over as the clubhouse leader, and some semblance of improved pitching outing by outing.
The Rangers may not be a playoff team come October, but they'll walk away having built a stronger structure for next year, and the years to follow. We are seeing the base being built in front of our eyes and it's very reminiscent of 2009, the year before their first World Series appearance, and 2015, their surprise playoff year.
This a young and exciting team that will only get younger and more exciting with the influx of minor league talent that will be in the mix later on this season. So hold on to your seats Texas Rangers fans, it's going to be a bumpy, but fun ride from here on out. Let's just hope we can send off Globe Life Park with some good baseball the rest of the way.