Texas Rangers: The legend that is Michael Gruber is headed to Globe Life Field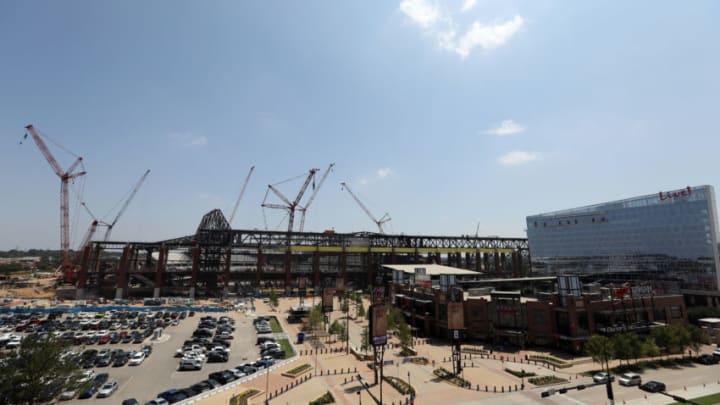 ARLINGTON, TEXAS - JUNE 20: A general view of construction of Globe Life Field on June 20, 2019 in Arlington, Texas. (Photo by Ronald Martinez/Getty Images) /
Michael Gruber has been electrifying the AAC and Dallas Stars fans for years. Starting in 2020, he'll be doing the same for the Texas Rangers at Globe Life Field.
The legendary figure that is Michael "Grubes" Gruber is going Lebron-mode and "taking his talents to South Beach". Well, actually he's taking them to Arlington. And more specifically, Globe Life Field. Texas Rangers PA icon Chuck Morgan tweeted out last night that Grubes would be joining him as part of the in-game experience at Globe Life Field next season.
The first question that probably comes to a few Rangers' fans mind is who is Michael Gruber and why should I care? Well I'm glad you asked this hypothetical question I'm assuming you asked. Gruber, or Grubes as he's become known is the man behind the music board at the American Airlines Center for the Dallas Stars.. He's become something of a legendary figure in DFW sports and probably become one of the most unlikely celebrities in North Texas.
He's known for his goofy style and willingness to try new stuff in-game. He also has a knack for reading the room and the situation. That combo has led to an uncanny ability to help guide the in-arena experience for diehard fans. If you want a full background on Grubes and how he got to where he is today, check out this interview he did with Josh Clark of FanSided's Blackout Dallas last year.
As far as his work with the Rangers, he's probably most identifiable by his live-tweeting of games (@tweetgrubes) and his use of custom nicknames he's formed for all the players. He's also worked with the Frisco RoughRiders meaning he has some links to the Rangers' organization already.
Fear not Stars fans, he's not going anywhere. He'll still be crushing home games at the AAC and he tweeted that if there's ever a conflict between the Rangers and Stars, the Stars will take priority. But for Texas to add Grubes as they make the jump to a new ballpark is a huge plus. Even Chuck Morgan noted in multiple Twitter replies that he wanted the best for the new park and Grubes is effectively the best in DFW.
With him taking over the music at Globe Life Field next season, we're sure to see some differences to what we've grown accustomed to, but I'm fully confident that in a new ballpark with a new atmosphere to mold, there's nobody better suited than Michael "Grubes" Gruber.