Texas Rangers: Mike Minor Interested in a Contract Extension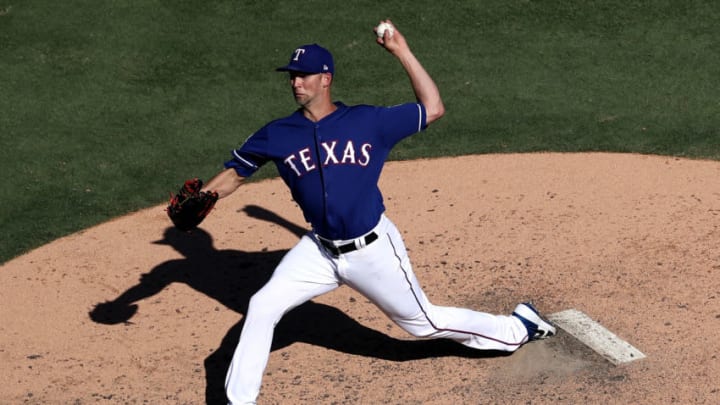 ARLINGTON, TEXAS - SEPTEMBER 26: Mike Minor #23 of the Texas Rangers at Globe Life Park in Arlington on September 26, 2019 in Arlington, Texas. (Photo by Ronald Martinez/Getty Images) /
Texas Rangers lefty and rotation frontman Mike Minor has noted a willingness to sign an extension with the club as he enters his final contract year.
So far this offseason Mike Minor and his future with the Texas Rangers has taken a bit of a backseat as the club and fans alike focus on additions that can help the club compete next season. However, the Rangers starter who is entering the final year of his contract, said this past weekend that he's interested in extension discussions and would like to stick with the Rangers in the long-term.
Jon Daniels went on to say a day later that discussions over extensions probably wouldn't take place for a month or two, which we assume to in part reference Mike Minor.
Minor, regardless of his long-term future with the Rangers, will go down as one of the most successful free agent signings for the organization. He signed a three-year, $28 million deal with Texas prior to the 2018 season and has been a rotation mainstay, emerging as their number one guy. The 2018 season was solid for Minor as he finished the year with a 2.5 fWAR making 28 starts with a 4.18 ERA. He built on that performance in 2019 though making 32 starts for Texas, hitting the 200 strikeout benchmark and finishing the year with a 3.59 ERA on his way to a 4.2 fWAR, the highest mark of his career.
Having just turned 32 in December, Minor is still in the heart of his pitching years and should be a strong contributor for the future. He formed a fantastic pairing with Lance Lynn last season and now could be a member of one of the better rotations in recent Rangers history after the acquisition of Corey Kluber as well as free agent signings Kyle Gibson and Jordan Lyles.
Minor has made it clear that he enjoys pitching for Texas and would like to stay with the organization. He was an often thrown around name at last year's trade deadline as someone contenders might be interested in which prompted him to vocalize his desire to not be traded. That's a promising sign for a Rangers team that is hoping their window of contention starts in 2020. Any extension will net Minor more than the roughly $9 million per year he makes now, but shouldn't break the bank. It could behoove the Rangers to get this done prior to the season because more performances like what he produced last season will only cause his price to inflate.