Texas Rangers Take 2B Justin Foscue in First Round of MLB Draft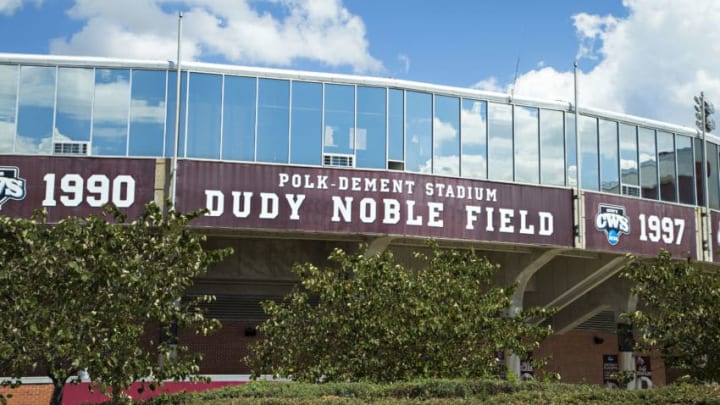 Dudy Noble Field, home park of Texas Rangers 2020 First Round draft pick, Justin Foscue (Photo by Wesley Hitt/Getty Images) /
The Texas Rangers have made their pick in the first round of the 2020 MLB Draft taking a collegiate infielder with a history of offensive production.
With the 14th overall pick in the 2020 MLB Draft the Texas Rangers had a plethora of directions they could have gone. The first 13 picks more or less went as expected and put Texas on the clock with a number of polished collegiate hitters and some of the top arms in the class available for selection. With their pick, the Rangers opted for infielder Justin Foscue out of Mississippi State University.
Initial Reactions
On the surface, Justin Foscue was a bit of an underwhelming pick to many including those who put up post-first round grades following Day One. Bleacher Report slapped a C grade on the Foscue selection while our friends over at Puckett's Pond graded the move at a C-. However, underwhelming on draft day means very little in Major League Baseball and is generally evidence of a high-floor selection, rather than a high upside player. The Texas Rangers showed a similar strategy in the 2019 draft taking Josh Jung and Davis Wendzel in the first round and stuck to their newly evolved guns on Wednesday with the Foscue pick.
Scouting Report
Foscue applied his trade for the Mississippi State Bulldogs over the course of the past three seasons, if you count the abbreviated 2020 campaign. The recently turned 21-year old worked as an infielder for the SEC powerhouse specifically spending time at second base where he also featured for the collegiate national team this past summer.
What stands out about Foscue is his ability to hit and Rangers' Director of Scouting Kip Fagg echoed that tool saying "We just felt this kid's bat was a special bat".
The stats back up the Rangers' beliefs with Foscue anchoring an impressive State lineup over the past couple of seasons. His breakout in college came last season as a sophomore where Foscue hit an impressive .331 with 14 home runs and 60 RBIs in 67 total games. He was tabbed as an All-American for that campaign by a number of amateur baseball publications and was first team All-SEC at second base. The 2020 season looked like it was picking up right where his 2019 season left off hitting .321 in the first 16 games of the year prior to the cancellation of the remainder of the NCAA season.
Right after the pick, he was linked with a number of big league comps with Bleacher Report comparing him to former NL MVP Jeff Kent most notably. Evan Grant of the Dallas Morning News summed up Foscue in more relatable terms calling him a "Nick Solak/Dan Uggla starter set". Bleacher Report then doubled down on the Nick Solak comparison in their post draft grades calling him "quite similar" to the Rangers' top young hitter.
Was It A Reach?
It's hard to call many picks in the MLB Draft reaches because teams can't trade away their picks. It's not like the NFL where you can slide down a few slots to pick up your guy. If you like him, then you take him unless you know you can get him a round later with your following selection. That seems to be the Rangers thought process in taking Foscue at 14th overall despite him being MLB Pipeline's 32nd ranked draft prospect.
Many mocks had Foscue going after the Texas Rangers selection most due to his seemingly somewhat limited upside. He's good enough to play second long-term but he is not expected to be racking up the Gold Gloves and as a whole, second base is often a position considered less valuable than other spots around the diamond. A saving grace for those who take mock drafts as Gospel though is that FanGraphs had Foscue going a pick before Texas, to the Giants, in their final draft projections.
Whether you consider it a reach or not is more dependent on whether or not you would have preferred Texas go a different route with their pick. Cade Cavalli, a notable right-handed pitcher from Oklahoma was still on the board as was Mick Abel, the top prep arm in the draft. Other bats available included Aaron Sabato, an offensive powerhouse from North Carolina and Garrett Mitchell, an outfielder with elite athleticism from UCLA were still available. All of those players have their pros and cons and Texas decided Foscue fit their vision for the future best.
Opinionated Outlook
The plus on Foscue is his ability floor and as a polished hitter, he should move through the minors quickly. It would not be a shock to see Foscue in Arlington in just a couple of seasons and he fits the bill for what the Rangers needed as an organization. Texas for years looked for high upside players who featured elite athletic tools. Those players, while exciting, carry with them an elevated risk of being a bust and unfortunately for Texas, they've been on the losing side of those picks a bit too much in recent memory. Because of that, Texas has looked to stock up on players who are future big leaguers, even if they don't carry tons of star potential. Foscue joins that growing list of player acquisitions and should be an exciting watch for Texas Rangers fans who are desperate for some homegrown talent to lead the club back to the playoffs.