Texas Rangers Report Card: Grading the first half of the season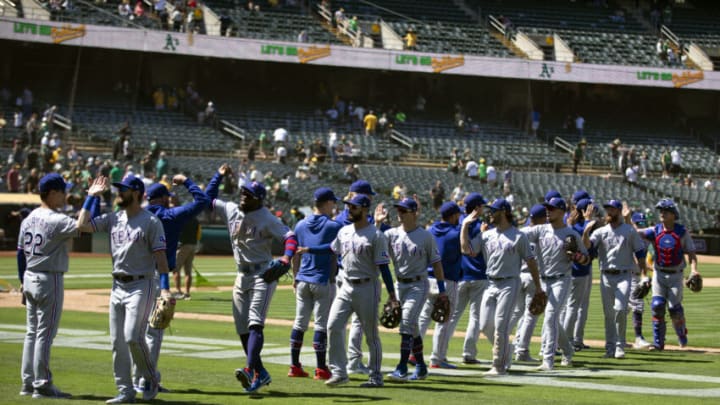 Jul 1, 2021; Oakland, California, USA; Texas Rangers players celebrate their 8-3- victory over the Texas Rangers at RingCentral Coliseum. Mandatory Credit: D. Ross Cameron-USA TODAY Sports /
Mandatory Credit: D. Ross Cameron-USA TODAY Sports /
Anyone who's watched the Texas Rangers play baseball in 2021 knows this team is not very good, but yet somehow better than we thought.
The above statement may sound contradictory, but it's true. The Rangers did just win a road series in Oakland for the first time since 2016, for example.
Many players on this team have way overperformed their expected production levels, while others have fallen disappointingly short, and combined, these elements have given the 2021 Texas Rangers an intriguing touch to them, despite the 32-49 record through 81 games.
Speaking of 81 games, that's the halfway point of the season, so let's take a look at how each of the different groups on this team have fared so far!
Mandatory Credit: D. Ross Cameron-USA TODAY Sports /
Texas Rangers: Grading the Infielders
Infield production has been a mixed bag in 2021.
At first base and shortstop, the Rangers have Nate Lowe and Isiah Kiner-Falefa, respectively, and both have lived up to the expectations set for them going into the season. Both have hit well (IKF should be an All-Star and Nate Lowe now has more homers in a Rangers uniform than he did with the Rays) and play solid defense, ensuring the team has two potential cornerstones on their infield.
Nick Solak has been a disappointment at second base, not quite hitting at the level many expected him to after winning the second base job out of camp. In addition, his defense can be suspect and might prompt fans to wonder if the 26-year-old has done enough to cement his spot going forward.
At third base, Texas has been mixing and matching with Brock Holt and Charlie Culberson most of the season, and while both players have had their moments, they're not to be thought of as more than replacement level fill-ins warming the position for top prospect Josh Jung.
Grade: B-
IKF and Lowe are the reasons I even went this high for the infield. Without them, this would be a totally average group.