Does signing Javier Baez make sense for the Texas Rangers?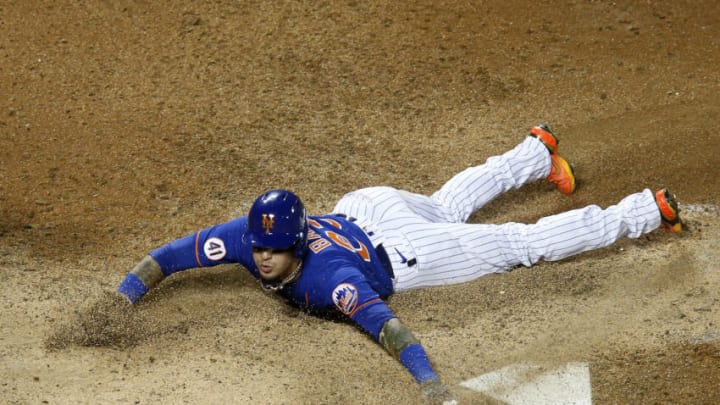 NEW YORK, NEW YORK - SEPTEMBER 28: Javier Baez #23 of the New York Mets in action against the Miami Marlins at Citi Field on September 28, 2021 in New York City. The Mets defeated the Marlins 2-1 in nine innings. (Photo by Jim McIsaac/Getty Images) /
Rumors continue to swirl around the Texas Rangers.  Jon Morosi from MLB Tonight, indicated that "if the Rangers can't sign Correa, Baez to Texas makes a lot of sense".
Here is a deep dive into Javier Baez, the player.
Age: 29 in December
Drafted by Chicago Cubs, 2011, Round 1, #9 Overall
MLB Years Active : 8
GP: 862
AB: 3040
R: 451
H: 804
2B: 160
3B: 19
HR: 149
RBI: 465
SB: 81
AVG: .264
OBP: .307
Why is Javier Baez available to the Texas Rangers?
Prior to making his MLB debut with the Cubs, Baez played parts of four seasons in the Cubs minor leagues.  Since the age of 23, Baez has been a regular in the MLB.  In his final season before free agency, the Cubs traded Baez to the New York Mets.  This move negated any compensation for the Mets and Baez is now free to sign with any team with no compensation required.
Do the Mets want Baez back?
The Mets have inquired to the Baez camp about re-signing their biggest trade line acquisition.  According to MLB sources, the two sides had a discussion about an extension during the General Managers meetings two weeks ago.
Why would the Texas Rangers want Javier Baez?
The Texas Rangers appear adamant in shoring up the middle infield or their roster.  Baez is versatile and could play SS or 2B.
Although Baez is not the superstar SS or 2B that Rangers fans are hoping for, he would bring an excellent bat and terrific defense to the infield.
In 486 career games at SS, Baez has a fielding percentage of .965 and has only committed 69 errors.  In 320 games at 2B, Baez has a fielding percentage of .977 and has committed only 26 errors.
Offensively in 2021, Baez played 138 games and had a .265 BA, 31 HR, 87 RBI, and 18 SB.
What would it take to sign him?
In 2021, Baez was paid $11.65M.  When the 2022 season begins, Baez will be 29 and will likely required at least 5-years/$100M in order to sign a contract with the Rangers.
What is the likelihood of the Texas Rangers landing Javier Baez?
It appears that the Rangers are pushing hard for a Carlos Correa signing.  They should know soon if that signing is possible.  Baez will likely sign an agreement with a team prior to the November 30th signing deadline.  Failing to act quickly will likely push the Rangers out of the possibility of signing Baez to a deal.
Keep watching the Rangers news at Nolan Writin', as some free agent signing are just around the corner.