Texas Rangers Prospects: Blaine Crim just keeps on hitting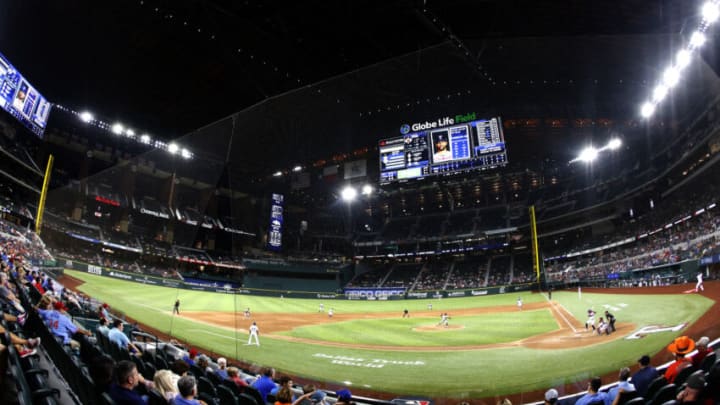 ARLINGTON, TX - SEPTEMBER 13: Cristian Javier #53 of the Houston Astros pitches against Leody Taveras #3 of the Texas Rangers in the fourth inning at Globe Life Field on September 13, 2021 in Arlington, Texas. (Photo by Ron Jenkins/Getty Images) /
You won't find him on any Texas Rangers' top prospect lists, but Blaine Crim continues to put on a show.
The unheralded first baseman just completed a stint with the Indios de Mayaguez of the Liga de Beisbol Profesional Roberto Clemente (LBPRC) in Puerto Rico, where he won a batting title.
Texas Rangers' prospect Blaine Crim won a batting title in Puerto Rican winter baseball
A .402 batting average, that's pretty good, right?
All Crim has done in his pro career to this point is hit, hit, and hit some more. It's about time people started putting respect on his name, because he's really that good.
In the minors last season, Crim posted a .906 OPS and 121 hits in 409 at-bats between High-A Hickory and Double-A Frisco. For his career, Crim is a .314 hitter with a .923 OPS.
We'll ask again, that's pretty good, right? Yet he doesn't get the recognition of other standout prospects, who in many cases don't produce the way Crim has despite their status.
The fact that Crim's hitting ability is going relatively unnoticed could be more indicative of the outstanding depth of the Texas Rangers' farm system rather than any knock on his talent. Still, though, winning a batting title in winter ball after another really good season in the minors should get people's attention.
It's possible we could see Crim get called up to the big leagues sometime during the 2022 season, particularly if he continues to hit at the ridiculous clip he did in Puerto Rico, or even at the level he did last season in the minors.  Contact hitters of his ilk are becoming an increasingly rare commodity in today's game, and those skills could be a real asset to the Texas Rangers as an elite bat off the bench, or perhaps even a DH.
Either way, if Blaine Crim keeps hitting as he's done his whole career to this point, it will be impossible for the rest of us to not notice his talent.