12-year MLB standings reflect Texas Rangers' mediocrity since 2017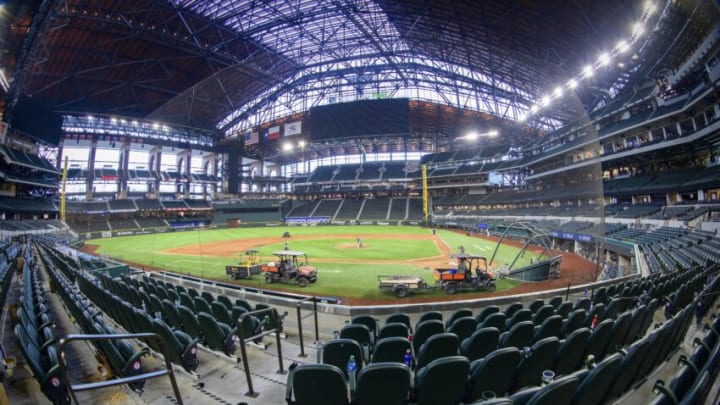 Sep 30, 2021; Arlington, Texas, USA; A view of the empty ballpark as the grounds crew tend to the field after the game between the Texas Rangers and the Los Angeles Angels Globe Life Field. Mandatory Credit: Jerome Miron-USA TODAY Sports /
Nothing like some introspective thinking during an ongoing MLB lockout, especially when it comes to the Texas Rangers.
To help us with our pondering, we've solicited a graphic posted to Twitter that displays the standings in MLB over the last 12 years (since 2010).
The Texas Rangers have been pretty mediocre over the last 12 years
As you can see, the Texas Rangers have been roughly average since 2010 with a 925-918 record, good for third in the AL West during this time, trailing the Angels by a half-game and the A's by 36.5.
Texas started the 2010s out with a bang, clinching back-to-back AL Pennants in 2010 and 2011 and making the playoffs as a wild card team in 2012. All three of those seasons saw the Rangers win 90+ games. 2013 was also a 90+ win season, but the Rangers missed out on a fourth straight playoff appearance that year.
In 2014, the wheels fell off and the team went 67-95 before bouncing back in 2015 and 2016 with consecutive AL West Division titles.
Since then, though? Nothing much.
The team faltered in 2017, forcing them to sell off Yu Darvish, and continued to let their aging core rot to the point of no return. It's been these last five years that are primarily responsible for the Texas Rangers' mediocrity illustrated in the above graphic.
Here's the team record in each season since 2017:
2017: 78-84
2018: 67-95
2019: 78-84
2020: 22-38
2021: 60-102
That'll do it for you. The Rangers tried to make the most of a declining roster, and as is evident, their attempts failed.
So while Texas did manage six winning seasons and five playoff appearances in the 2010s, that success is mitigated greatly by trying to extend a shelf life of a core that was in decline.
It's a good thing the Rangers have learned their lesson, though, as a rebuild was desperately needed. And now, Texas finds themselves on the upswing in 2022 with a bright future ahead.
Maybe we can even get one of those Commissioner's Trophies this time!