Texas Rangers: Ezequiel Duran quickly developing a clutch gene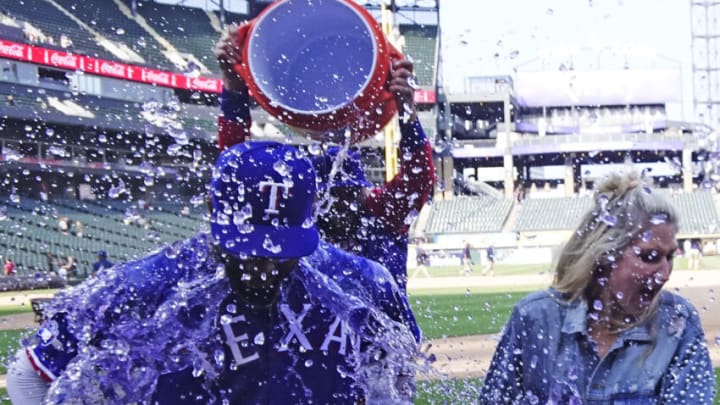 Jun 12, 2022; Chicago, Illinois, USA; Texas Rangers third baseman Ezequiel Duran (70) is doused with Gatorade after the game against the Chicago White Sox at Guaranteed Rate Field. Mandatory Credit: David Banks-USA TODAY Sports /
Some players come ready-made with a knack for delivering in big moments. It looks like the Texas Rangers found one of those in prospect Ezequiel Duran, recently called up to the big leagues.
Duran, one of the players acquired in the Joey Gallo trade with the Yankees last summer and the third from that deal to make his MLB debut, has exhibited a flair for the dramatic early in his career. In just nine games played to date with the Texas Rangers, Duran already has an extra-inning home run against the Chicago White Sox and a game-tying hit in the eighth inning against the Houston Astros at home Monday night.  Both of those hits produced wins for the Rangers.
Ezequiel Duran has been clutch to start his Texas Rangers career
It's no secret that the 23-year-old infielder is talented, as he was leading Double-A in… doubles this year prior to his Rangers debut, and he was lauded as having the highest ceiling of all the players Texas got for Gallo and reliever Joely Rodriguez nearly a year ago. But unlike his teammate Josh Smith, who started the season in Triple-A, Duran had to make the jump from Double-A, which usually comes with a steeper learning curve.
Not in this case, though. At least not for now.
Surely, baseball will adjust back to Duran, and he'll have to counter, as all young players do. But it appears so far that Duran isn't afraid of the spotlight or the big moment, delivering when being counted on. That alone is a marker of a player with real potential and a chance to make it big with the Texas Rangers.
With such a small sample size (just 36 at-bats), it's easy to overreact to Duran's hot start (.907 OPS, .351 OBP). Promising to say the least, but his story is far from being told.
But the manner in which he's gotten some of his hits so far? It's hard to ignore!