With just $80 million committed to 2023, Texas Rangers seem set up for more spending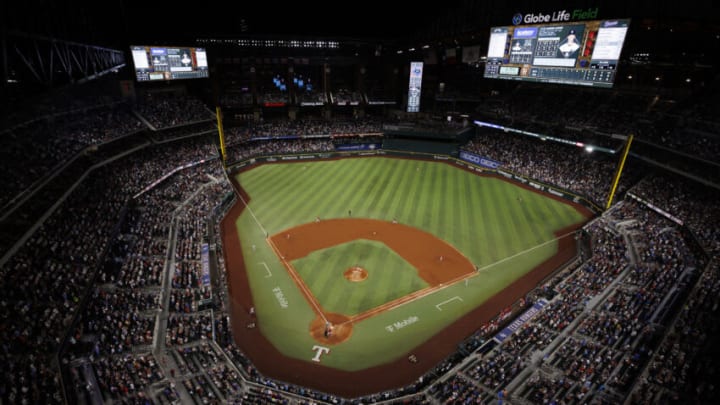 ARLINGTON, TX - OCTOBER 04: A general view during a game between the Texas Rangers and New York Yankees at Globe Life Field on October 4, 2022 in Arlington, Texas. (Photo by Ben Ludeman/Texas Rangers/Getty Images) /
The presumed narrative going into this off-season for the Texas Rangers was that after splurging in grand fashion on free agents last winter, they wouldn't invest as much money this time around.
Well, think again.
Though the Rangers have a significant amount of long-term money tied up to Corey Seager, Marcus Semien and Jon Gray, the truth is that Texas only has about $80 million on the books heading into 2023. That number, in comparison to the $142 million payroll they ran in 2022, means GM Chris Young has over $60 million in the budget just to match this year's total. And with owner Ray Davis giving the "ok" to increase payroll again in 2023, we could just be scratching the surface of the kinds of moves the Rangers could conceivably make this off-season.
For fans dreaming of another splashy winter in Arlington: you just might be in luck.
Texas Rangers poised for another splashy off-season ahead of pivotal 2023 season
The most clear and obvious need for the Rangers: pitching. And there's plenty of it, whether on the free agent market with names like Clayton Kershaw, Justin Verlander, Jacob deGrom, Carlos Rodon and Japanese sensation Kodai Senga, or scouring the trade market for names like Pablo Lopez of the Marlins or Corbin Burnes of the Brewers. And besides having many options, Texas will have the ability to throw money at any of them.
That's massive, because pitchers these days require the biggest of bucks. And the Rangers can seemingly handle that.
Of course, one of the first orders of business should be wrapping up that Martin Perez extension. That seems like it's in the works. Beyond that, though? Anything appears possible for Chris Young and the Texas Rangers.
But the scope of this team's spending doesn't have to be limited to pitching (though again, it's the most glaring need). The Rangers can afford to get creative due to their payroll flexibility. We all know about Aaron Judge.
Trea Turner's available? They'll find a spot for him. Bullpen upgrade? Edwin Diaz is at the top of the list, but Kenley Jansen or Zack Britton could work well too, assuming the latter is healthy.
There's a lot you can do when the money is flowing, and it certainly seems to be within the Texas Rangers organization right now. With eyes on 2023 contention, you can expect Chris Young and company to make a splash (or two, or… five) once again.