Grading reader-submitted trade proposals for the Texas Rangers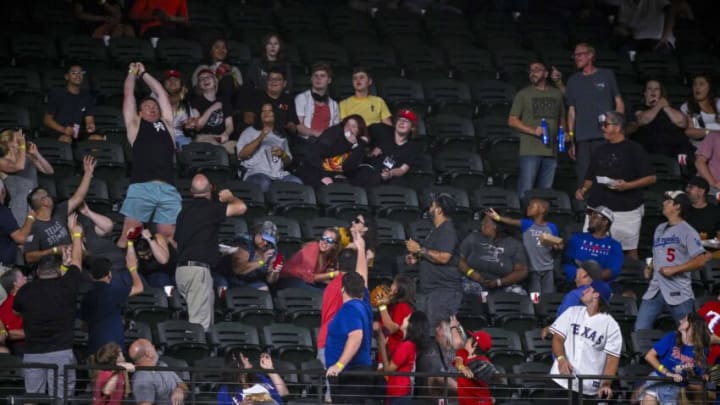 Sep 21, 2022; Arlington, Texas, USA; A fan attempts to catch a home run ball hit by Los Angeles Angels right fielder Taylor Ward (not pictured) during the first inning against the Texas Rangers at Globe Life Field. Mandatory Credit: Jerome Miron-USA TODAY Sports /
The people have spoken! You, the Texas Rangers fans and loyal readers of our site, that is.
With the off-season in full swing, and with the Rangers expected to be active once again in pursuing upgrades this winter, the time has come for fans to dream of player movement.
This week, we asked fans on Twitter to submit hypothetical, yet realistic trade proposals that they'd like to see Texas pursue in the coming months. And we received many intriguing responses! While we won't be able to get to all them, we can definitely circle back again at a later point.
So without further ado, let's grade your trades!
Sep 30, 2022; Milwaukee, Wisconsin, USA; Milwaukee Brewers starting pitcher Corbin Burnes (39) delivers a pitch against the Miami Marlins in the first inning at American Family Field. Mandatory Credit: Michael McLoone-USA TODAY Sports /
Grading fan-submitted Texas Rangers trade proposals for Corbin Burnes
Trade #1
Submitted by @codyearley
Wow. This one's a blockbuster. Burnes will certainly require a ransom to acquire from the Brewers, given that's he one of the game's elite, and this qualifies as such. Jack Leiter, Aaron Zavala and Justin Foscue are all top-ten Rangers prospects, while Tekoah Roby and Zak Kent are rising stars in the system.
It doesn't feel like Milwaukee would pull the trigger on a Burnes unless they could coup someone like Leiter, an upper-echelon pitching prospect, so on that level, this trade does make sense. The Rangers also have Brock Porter, Kumar Rocker and Cole Winn, so in terms of depth, Texas could theoretically deal from this position. Theoretically.
I would hate to deal a budding star in Aaron Zavala, but let's remember who the Rangers are acquiring here: an ace. A true alpha. When's the last time the Rangers had one of those on their staff?
Overall, there's sticker shock here, but I actually don't hate this trade.
Grade: C+/B-
Trade #2
Submitted by @RustyCollier
On the surface, this feels lighter than the previous package offered. You can make the argument for Owen White as the top pitching prospect in the Rangers' system, and he should only be dealt if a guy like Corbin Burnes is coming back. But he's the best player in this deal by a considerable margin.
Justin Foscue is a fine prospect and a long-speculated trade asset, but the drop-off to Foscue from White is steep. Josh Smith's value unfortunately took a tumble after struggling in his big league debut this season, while Tekoah Roby is a talented arm with a high ceiling, but not nearly that of Owen White's.
Overall, this package feels too light for Corbin Burnes. But it's at least a start.
Grade: C-