Grading reader-submitted trade proposals for the Texas Rangers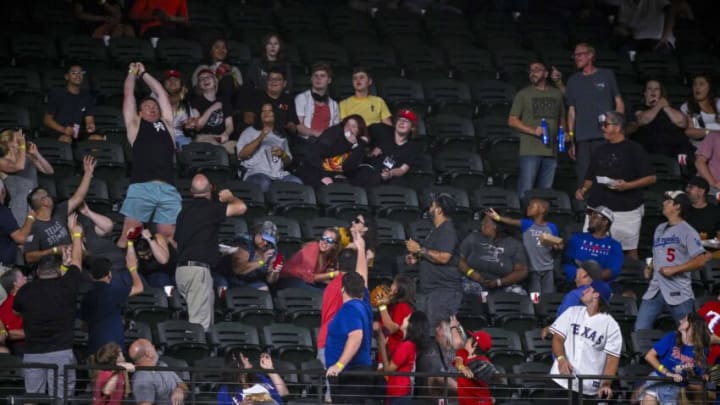 Sep 21, 2022; Arlington, Texas, USA; A fan attempts to catch a home run ball hit by Los Angeles Angels right fielder Taylor Ward (not pictured) during the first inning against the Texas Rangers at Globe Life Field. Mandatory Credit: Jerome Miron-USA TODAY Sports /
Oct 2, 2022; Milwaukee, Wisconsin, USA; Miami Marlins starting pitcher Pablo Lopez (49) delivers a pitch in the first inning against the Milwaukee Brewers at American Family Field. Mandatory Credit: Michael McLoone-USA TODAY Sports /
Grading fan-submitted Texas Rangers trade proposals for Pablo Lopez
Trade #1
Submitted by @lanceluther83
Pablo Lopez makes a lot of sense for the Texas Rangers. He's a solid rotation cog with years of team control, and he would cost less to acquire than say, Corbin Burnes. And rumor has it the Marlins could be willing to deal him for offense this winter.
Looking at this trade, it's hard not to view it as a win-win for both sides. Leody Taveras and Ezequiel Duran have solid upside at their young ages, and could become core pieces for the Marlins as they look to keep building.
And while trading Aaron Zavala would be a tough pill to swallow, acquiring controllable pitching costs a fortune these days. Pablo Lopez is the type of acquisition for both now and later in upgrading the Texas Rangers' starting rotation.
Grade: B+
Trade #2
Submitted by @jptway50
This one seems like a pretty steep price for the Rangers to pay for Lopez.
First off, Acuna and Foscue are both top-ten prospects in Texas' minor-league system. A package with that caliber of talent seems more commensurate with an ace, while meaning no disrespect to Lopez.
The Marlins also seem to want MLB-ready players in exchange for their pitching, as evidenced by the trade they nearly made with the Yankees over the summer for Gleyber Torres. The only MLB-ready player involved on the Marlins' end of this exchange would be Bubba Thompson. And while he's blazing fast, it's unclear how much consistent offense he can provide with his bat.
In general, this trade doesn't quite align for the Marlins in terms of what they're looking for, while also giving up a lot in prospect capital on the Rangers' end for a pitcher who isn't an ace.
Grade: D+/C-
*Bonus* Trade #3
Submitted by @RangersFan0717
If this is the Rangers' equivalent of the aforementioned hypothetical Yankees-Marlins swap involving Gleyber Torres and Pablo Lopez, it… may actually work!
A simple mano-a-mano exchange that addresses a weakness on each team, Garcia for Lopez  helps both the Rangers and Marlins. Of course, the difference is that the Marlins have the pitching depth to account for losing Lopez, while Texas does not for Garcia in their outfield with Evan Carter and Aaron Zavala both at least a year away from being MLB-ready. The Rangers would likely supplement with a free-agent outfielder if they were to make this trade.
But on the flip side, an outfielder is cheaper to sign than Jacob deGrom or Carlos Rodon… unless we're talking Aaron Judge, which we shouldn't be, to set expectations.
Overall, this trade makes sense in a vacuum, but maybe would need more hashing out in reality.
Grade: B