What Should the Rangers Do With Ezequiel Duran and Josh Smith?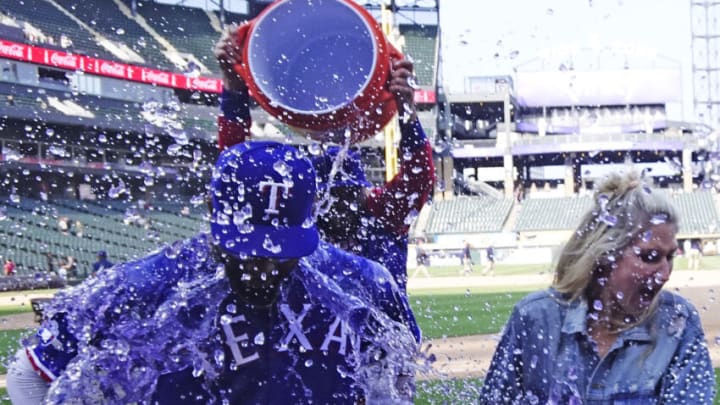 Jun 12, 2022; Chicago, Illinois, USA; Texas Rangers third baseman Ezequiel Duran (70) is doused with Gatorade after the game against the Chicago White Sox at Guaranteed Rate Field. Mandatory Credit: David Banks-USA TODAY Sports /
Josh Smith and Ezequiel Duran have a lot in common. Both players were acquired by the Rangers (along with Glenn Otto and Trevor Hauver) in a 2021 deadline deal with the New York Yankees that sent Joey Gallo to the Bronx. Both players were primarily middle infielders during their time in the Yankees' system. Smith saw some time at third base while at LSU, but never played anywhere besides second base or short during his time in the Yankees' organization.
Both players were ranked in the Yankees' Top 15 prospects at the time of the trade (Smith was 14 and Duran was 15). Both players closed the year in the Rangers' Top Ten Prospects (Smith at 6 and Duran at 7). Both players have 20/20 potential, and both lack an obvious deficiency in their game according to their scouting grades.
Both players made their major league debut during the first half of the 2022 season. They each struggled through their first extended stay in the big leagues. Smith posted a .197/.307/.556 line through 253 plate appearances and Duran's .236/.277/.642 line in 310 plate appearances wasn't much better. That said, both players are still incredibly young and no judgments should be made about their performance when they were facing facing big league pitching for the first time.
Analyzing what the Texas Rangers should do with Ezequiel Duran and Josh Smith
The two also seem to be without a position at the major league level. With Semien and Seager both signed for the long term, there won't be any middle infield positions up for grabs in the foreseeable future. Most Rangers fans remember seeing Smith and Duran each get extended time at third base last year.
The only reason third base was open was because Josh Jung had to miss significant time with a torn labrum in his left shoulder. As long as Jung is healthy, he should be a mainstay at third base for 2023 and beyond.
Perhaps Smith or Duran could play elsewhere. Outside of Adolis Garcia, the Rangers don't currently have anyone with a guaranteed spot in their starting outfield. Smith started 21 games in left field with the Rangers last year and seemed to pick up the position pretty well. Duran didn't see any time in the outfield at the major league level, but he played 17 games as an outfielder in Round Rock during the second half of the 2022 season. He's currently playing the outfield in the Dominican Winter League. He's spent most of his time in left field, but he's seen action at every outfield position.
This doesn't change the fact that each player is a natural middle infielder. Could they have more value to the Rangers as trade chips? Both have been mentioned in rumors as teams prepare for the Winter Meetings. The Rangers have a clear need for starting pitching and they wouldn't mind bringing in a more proven outfielder. Perhaps there's a team that covets a young middle infielder and is willing to part with a major-league caliber player to bring one in.
Assuming Smith and Duran are still with the Rangers for Spring Training, where should fans expect to see them? Both will have a chance to compete for the Opening Day roster, but nobody should be surprised to see either (or both) of them begin the season at AAA Round Rock.
Ezequiel Duran skipped AAA altogether before his first call-up to Arlington and is still only 23 years old. If he doesn't have an opportunity to play every day at the major league level (which is unlikely), the club would probably prefer for him to get regular at-bats in the minors.
Smith may have a better chance at making the team as a super utility player. He's seen more time in the outfield, and he has previous experience playing third base prior to his time with the Rangers. He played four positions at the Major League level  last year and saw time in center while with Round Rock. Thanks to his positional versatility, he might be able to stay in the lineup on a regular basis even if he doesn't have a primary position.
Regardless of where either player begins the 2023 season, it's encouraging to see evidence of the depth the Rangers currently have in their farm system. When was the last time Rangers fans noticed a logjam at any position like what they currently have in their middle infield? In addition to Josh Smith and Ezequiel Duran, the Rangers also have Justin Foscue and Maximo Acosta making their way up the minor league ranks as middle infielders.
Whether the Rangers are able to reposition all of their rising middle infield stars or use them to acquire another position of need via trade, this is a great position for the Rangers to be in as the team looks to reshape itself as a competitor.