Early 2023 MLB mock draft has Texas Rangers selecting an Ohtani-lite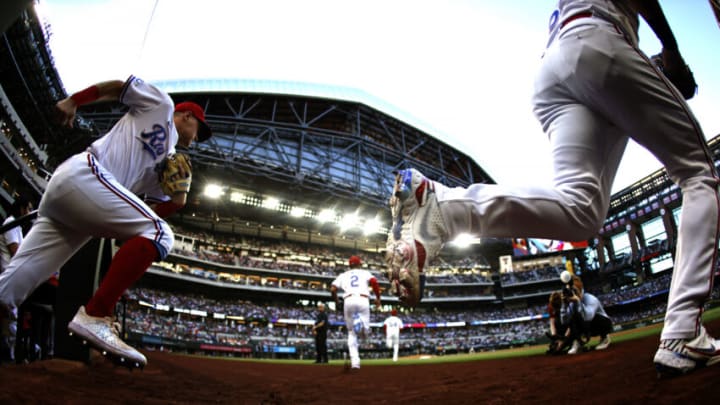 ARLINGTON, TX - OCTOBER 3: The Texas Rangers take the field before playing against the New York Yankees at Globe Life Field on October 3, 2022 in Arlington, Texas. (Photo by Ron Jenkins/Getty Images) /
Most of the hot stove action has cooled down for the Texas Rangers after a surge of activity in early December that resulted in the signings of pitchers Jacob deGrom and Andrew Heaney. So we're going to briefly turn our attention to the 2023 MLB Draft, scheduled to take place next July.
The Rangers, as you might recall, were one of the beneficiaries of the inaugural MLB Draft Lottery, which took place during the 2022 Winter Meetings. Texas received the fourth overall selection, ensuring that they would be picking in the top five for the third year in a row. This also gives the franchise another chance to select a premier talent to add to an already strong farm system.
With an anticipated college-heavy prospect pool, the Rangers will likely also be drafting a player with more polish, which stands to reason that he'll be closer to making an impact at the highest level.
To this end, MLB Pipeline released a very early 2023 mock draft, and they have the Texas Rangers selecting a two-way threat out of LSU with the fourth overall pick: RHP/C Paul Skenes.
LSU dual threat Paul Skenes mocked to Texas Rangers in 2023 MLB Draft
Skenes, a 6'6 junior from California, spent the first two seasons of his college baseball career at Air Force before transferring to LSU starting with the 2023 season.
In 2022 with Air Force, Skenes pitched to a dominant 2.96 ERA with 96 strikeouts in 15 starts (85.2 innings pitched), while also batting .314 with 10 home runs and 13 doubles as a catcher on the team. Does this profile sound like anyone Texas Rangers fans may be familiar with in the AL West? You guessed it: dual-threat dynamo Shohei Ohtani of the Los Angeles Angels.
Granted, this comparison should be taken with a large grain of salt, as Skenes is still just a college player while Ohtani is an AL MVP, but the point stands: if Skenes is able to continue his two-way play at a power-five school like LSU, the Rangers could potentially find themselves an Ohtani of their own.
A player with Skenes' talent at fourth overall? Sounds like a potential draft heist for the Texas Rangers in 2023.