Texas Rangers Continue To Build Momentum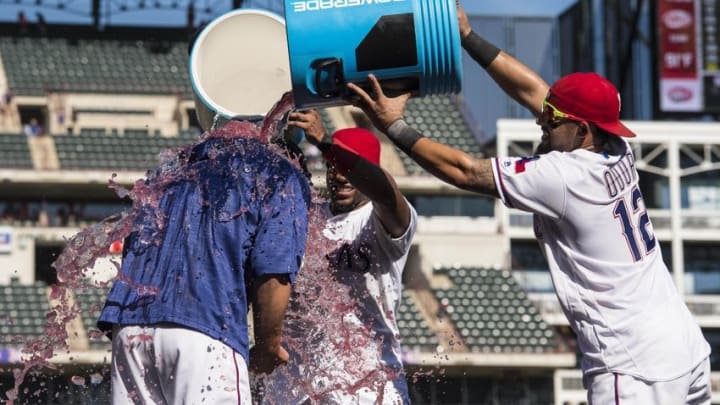 Aug 28, 2016; Arlington, TX, USA; Texas Rangers shortstop Elvis Andrus (1) and second baseman Rougned Odor (12) dump water and Powerade on starting pitcher Derek Holland (45) after defeating the Cleveland Indians 2-1 at Globe Life Park in Arlington. Mandatory Credit: Jerome Miron-USA TODAY Sports /
The Texas Rangers had two strong performances by A.J. Griffin and Derek Holland to finish the 4 game series has led to the Texas Rangers winning 3 of the 4 games and truly sets them up to most likely having home-feild advantage in the playoffs.
This Texas Rangers momentum is exactly what was needed as they walk into a series with the Seattle Mariners who are 8.5 games behind the Rangers in the division. Yu Darvish and Cole Hamels will pitch the first two games in a series that could basically eliminate the Mariners from playoff contention if the Texas Rangers do their job.
The most promising thing that has happened over the past week would be the 2 starts by Derek Holland since returning from a 2 month stint on the DL. He seems to be using his off-speed pitches more often which is leading to more swing and misses. In the last month before the injury, he had around 20 swings and misses and over the past two starts he has had 21.
Now this change in stategy by Holland could be a result of many things. He may have used the time on the DL to work on his mechanics (most notably his front leg action). Maybe this is Jonathan Lucroy's doing but we need to be fair and give the pitchers a little more credit when things go well. Whatever it was that Derek Holland did to improve his game, it's working and the Texas Rangers need it to stick around.
Derek Holland needs it to stick around also if he would like for the Texas Rangers to seriously think about exercising an $11 million team option for next season. If Holland was to keep this production up then it could lead to talks of him being a playoff pitcher and possibly bumping Martin Perez who has been inconsistent to say the least.
More from Nolan Writin'
The conversation of starting pitchers should grow over the next week as Colby Lewis is expected to make his last rehab start in the minors tonight. There is a possibility that the Texas Rangers could go with a 6-man rotation when Lewis is ready to join the active roster. Now we talked about a 6-man rotation back in May just before the injuries to Lewis and Holland but it could really work this time.
Imagine finishing the season with a 6-man rotation and the amount of wear and tear it could save on all of the starting pitchers. You'll have Hamels and Darvish getting rest and Holland and Lewis time between starts so that they ease back into things. All of that with Martin Perez and A.J. Griffin showing up and providing either a great performance or a bad one, it's hard to tell with them right now.
Next: Texas Rangers: Recent Actions May Hit Big
The Texas Rangers have questions in their starting rotation, bullpen, and even their leadoff hitter but they continue to find ways to stack wins and hold onto the best record in the A.L.. What do you think has been the biggest reason for this outcome?