Texas Rangers: Quick Comparison Of 2015 ALDS Lineup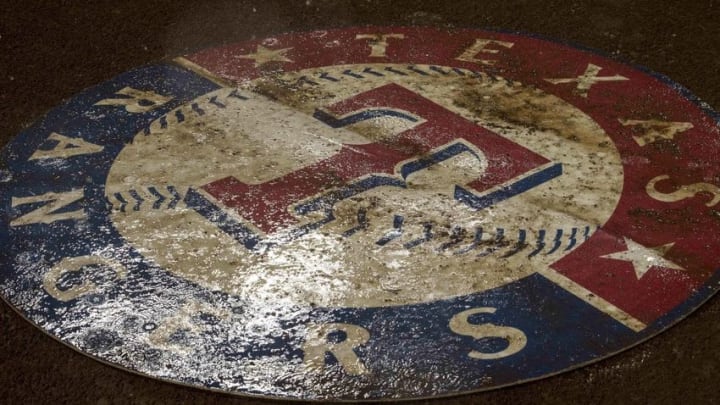 Sep 19, 2016; Arlington, TX, USA; A general view of the Texas Rangers logo during a rain delay in the eighth inning between the Texas Rangers and the Los Angeles Angels at Globe Life Park in Arlington. Mandatory Credit: Jerome Miron-USA TODAY Sports /
The Texas Rangers look to take the first game of the ALDS from the Toronto Blue Jays later today. With this series kicking off, we decided to look back at the lineup the Rangers sent out against the Blue Jays just a year ago and there is obvious reasons why the Blue Jays face a tougher test this year.
Heres the 2015 and 2016 game 1 lineups for the Texas Rangers:
2015                                                                                       2016
Delano DeShields CF                                         1. Carlos Gomez LF
Shin-Soo Choo RF                                              2. Ian Desmond  CF
Adrian Beltre 3B                                                 3. Carlos Beltran DH
Prince Fielder DH                                               4. Adrian Beltre   3B
Mike Napoli 1B                                                   5. Rougned Odor 2B
Josh Hamilton LF                                               6. Jonathan Lucroy C
Elvis Andrus SS                                                  7. Mitch Moreland 1B
Rougned Odor 2B                                              8. Elvis Andrus      RF
Robinson Chirinos C                                         9. Shin-Soo Choo  RF
Dramatic differences are what you just observed, seriously know one knows how that 2015 lineup had the best 2nd half of the season last year. Mike Napoli was a pickup during the season, Josh Hamilton really didn't contribute anything and Roungned Odor was not the hitter he is now.
Fast forward to this year and you have a lineup that literally anyone can knock a homer out at any time. Now not only is their power in this lineup but every one of these guys have provided a key hit in a clutch moment. Even when you look at the bench you have Nomar Mazara and Jurickson Profar provide enough experience to make an impact if implemented.
More from Texas Rangers News
The reality of that 2015 lineup is Adrian Beltre tweaked his back early in that 1st game which ended up with the game 3 lineup looking like: Deshields,Choo, Fielder, Moreland, Andrus, Hamilton, Odor, Chirinos, and Alberto. All of those players are major leaguers but Fielder only hit .150 during the playoffs while Moreland didn't have one hit during the 2015 post season.
The summary of this is that the Blue Jays are facing a whole different lineup when they take on the Texas Rangers this year. Jeff Banister is no longer having to be precise in the buttons that he pushes but can allow his all-star caliber players to play like what they are. The beneficial thing is that Banister will still push the right buttons because he makes players better than what they actually are.
Next: Texas Rangers: Nomar Mazara Snubbed From Rookie Of The Year
With a lineup like this, an Ace in Cole Hamels taking the mound, and Jeff Banister steering the ship; oh man things are going to be special as they continue this magical season. This team expects nothing less than a World Series Victory but they are focused on the one game in front of them.