Texas Rangers: An Early Look at the Rotation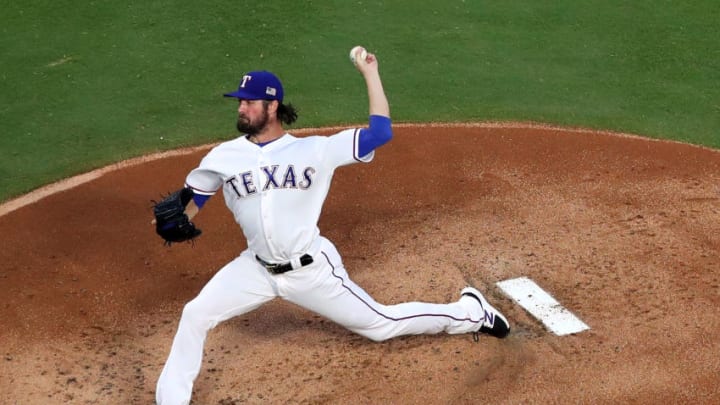 ARLINGTON, TX - SEPTEMBER 11: Cole Hamels /
The MLB offseason continues to crawl along at a sloth's pace. As teams and players are at a standstill, we have some time to look a little closer at how the Texas Rangers rotation currently stands.
Even though we are almost halfway through January, the Texas Rangers are still actively looking for starting pitching. They are, however, adamant that they are not shopping at the top of the market. General manager Jon Daniels has stressed that multiple times this offseason. It doesn't mean the Rangers aren't interested in a potential Yu Darvish reunion, but only if the price the right.
If the Rangers don't add another frontline starter and only go for depth, they have a set rotation already. Here's a closer look at the expected starting rotation for 2018 as it currently stands.
More from Nolan Writin'
Cole Hamels
Right now, Cole Hamels would be the opening day starter for Texas. He's coming off of a season to forget for his standards. He missed significant time with an oblique strain and couldn't consistently put together good starts. He was 11-6, but his ERA was the second-highest of his career at 4.20.
A bounce-back season for Hamels could be on the horizon if his health isn't an issue. He's just a year removed from a 200-inning season with a  3.32 ERA. He probably won't be Cole Hamels from six years ago, but could still be a solid front-of-the-rotation starter.
Mike Minor
The Texas Rangers have been down this road before; the road Mike Minor is trying to take. The Rangers had C.J. Wilson start out as a starter, was moved to the bullpen, then made a comeback to the rotation. Wilson was the Rangers' best starting pitcher in 2010-2011.
Minor was once a prized Atlanta Braves starter that turned into a very good pitcher in 2013. Shoulder problems kept him out of baseball from 2015-2016. Minor revived his career last year with Kansas City as a reliever.
The Rangers signed Minor this offseason to be a starter. They do have the flexibility to move him to the bullpen if they add another starter for the rotation, but the plan going into spring training is to start.
While Minor was one of the best relievers in baseball last season, it's always a bit unpredictable when a pitcher increases his workload by a wide margin. Minor's stuff was more electric last season, so maybe he could make a successful transition.
Martin Perez
Martin Perez is the only other incumbent along with Cole Hamels in the Texas Rangers' rotation. Perez was at one time a top pitching prospect for the Rangers and was viewed as a potential top-of-the-rotation starter.
Perez has yet to reach that potential. His biggest setback was needing Tommy John surgery in 2014. He hasn't been able to find any level of consistency since his return in 2015.
It would be a great site to see Perez finally turn the corner a become the pitcher the Rangers envisioned him to be. He was quite good down the stretch at the end of 2017.
There is, however, a monkey wrench thrown into Perez's ability to pick up where he left off at the end of last season. He broke his non-throwing elbow at his ranch in Venezuela avoiding a run-in with a bull. He is projected to be out until the middle of April or beginning of May.
Matt Moore
The most recent pitcher acquired by the Rangers this offseason was Matt Moore. The Rangers have sought after Moore since his days in Tampa Bay. It's not a surprise their interest didn't completely diminish.
On the contrary, Moore's effectiveness as a starter may have diminished. Since his Tommy John surgery, he hasn't shown any proof on the mound that he's the same pitcher he was before his injury.
Moore's 2017 campaign was one to forget. His 5.52 ERA was at the bottom of the Major Leagues among qualifiers. A change of scenery, especially to a team that wants you, may help revive a once promising career.
Doug Fister
With another bargain deal, Doug Fister may be the most unpredictable. Minor is coming off a successful run as a reliever. Moore is coming off a horrible season. Fister is coming off of an up-and-down year.
Fister was lights out in 2014 and had been serviceable for the past couple of years. Like Martin Perez, he was better down the stretch at the end of 2017. He is looking to regain the form that made him so dominant in 2014, and he's said in interviews that he believes he's there.
The biggest positive from acquiring Fister is his very low salary. He is set to only make $3.5 million this year, and the Rangers hold a $4.5 million option for 2019. If he regains that dominant form, the Rangers will have made the steal of the offseason.
---
It is worth noting that Fister, as the way the rotation is currently constructed, is the only right-hander. With Perez potentially missing as much as the first month of the season, maybe Matt Bush wins a spot out of spring training to help balance out the rotation.
With so many pitchers still on the market, it's hard to say whether the Texas Rangers are done adding to the rotation.