Texas Rangers: Why less will be more during the 2021 season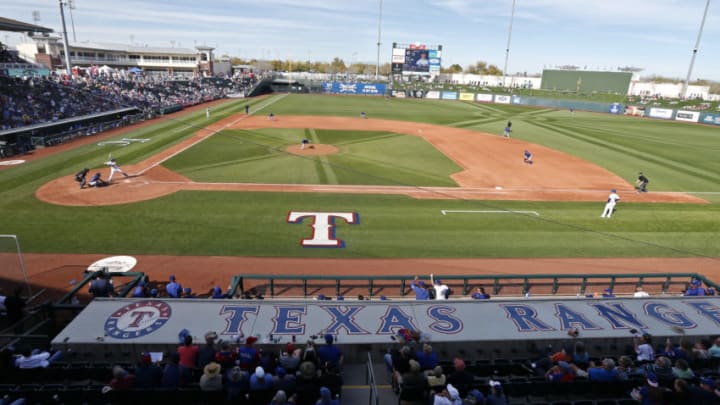 SURPRISE, ARIZONA - FEBRUARY 27: General view of Surprise Stadium during a Cactus League spring training game between the Chicago Cubs and Texas Rangers on February 27, 2020 in Surprise, Arizona. (Photo by Ralph Freso/Getty Images) /
In an ideal world, the Texas Rangers would be using this year's spring training to gear up for a competitive 2021 season.
Unfortunately, this isn't the way things are projected to unfold for the Rangers as a new season draws nearer by the day.
Instead, 2021 will be a "look in the mirror" type of year for the franchise, one of internal evaluation of talent.
The Texas Rangers will be bad in 2021, but for good reason.
The team will probably be difficult to watch at times, but truthfully, the Rangers will be better off for winning less this upcoming season.
Allow me to explain.
Mediocrity is the equivalent to a sports "purgatory". In essence, teams mired in mediocrity are stuck in the middle of the pack, without much direction or talent. Sometimes, mediocre teams can sneak their way into the playoffs in a bad division or weak league.
Most of the time, though, winning 75 to 80 games is a bad idea.
Just look at the Rangers' recent draft placement.
For the Texas Rangers, less wins in 2021 could mean more in the future.
Drafting 30th like they did in 2016 or 26th in 2017 is a sign of success, but drafting 15th in 2018 and 14th in 2020 is the exact opposite: a failure.
A failure on the part of the Texas Rangers' front office to try and extend competitive windows where they flat-out didn't exist (such as in 2017 when the Rangers were reluctant sellers until they caved in by trading Yu Darvish to the LA Dodgers right at the deadline).
Much like in other sports, high draft placement usually (but not always) correlates with acquiring more elite talent. Drafting in the teens is terrible for this correlation, and it also means a front office overstayed its welcome as a contender.
This doesn't mean the Rangers can't draft great players with a middling pick: they did get RHP Cole Winn with their 2018 selection and 2B Justin Foscue with their 2020 selection.
Imagine if the Rangers had been in an even better draft position in those years, though. With a top-10 pick in 2018, the team could have had a Jarred Kelenic, Casey Mize, Alec Bohm or Nick Madrigal.
Again, this is no knock on Winn. But you can't deny that having one of the aforementioned names wouldn't very much excite you.
The same rationale applies to 2020. Justin Foscue was a fine selection at 14, but you can't tell me you wouldn't rather have a Spencer Torkelson, Asa Lacy or a Garrett Crochet.
This is the value of winning less games in the interim for a team's future benefit.
So if given a choice between winning 75 to 80 games for the sake of wanting to view a more respectable product on the field (and this sentiment is understandable), versus winning 67 games as metrics like PECOTA project for the Texas Rangers in 2021, the more logical choice would be the latter, both for now and for the future.
In short, winning less in 2021 might actually turn out to mean more for the Texas Rangers going forward, even if it means a little suffering in the moment.
Unless, of course, the Texas Rangers win 90+ games in 2021 and make the playoffs. We can work with that, too.