Texas Rangers: Explaining the new rules being tested this spring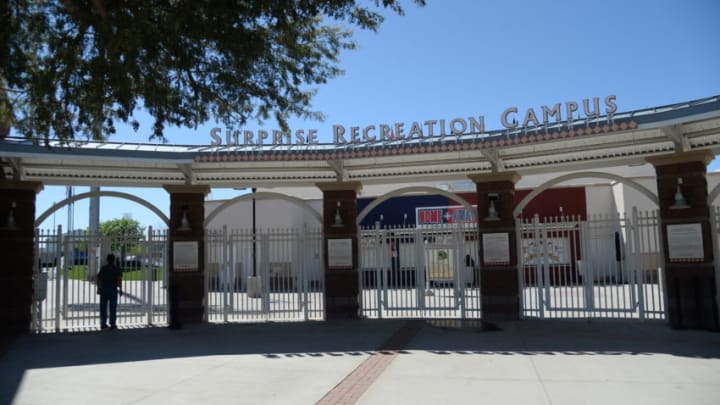 Mar 15, 2020; Surprise, Arizona, USA; A general view at Surprise Stadium following the cancellation of spring training games due to concerns over the COVID-19 coronavirus. Mandatory Credit: Joe Camporeale-USA TODAY Sports /
We didn't get through three innings of the Texas Rangers' spring opener before seeing some of the new rules being tested this spring.
The Texas Rangers and Kansas City Royals played their spring opener on Sunday, with new rules being implemented by Major League Baseball being tested.
MLB has listed a set of COVID-19 protocols that will shorten games and feature more flexibility decided by the managers of both squads.
According to NBC Sports, the rules stated by the league are as follows.
""Spring Training games through Saturday, March 13th may be shortened to five-inning games or seven-inning games upon mutual agreement of both managers. Games that occur from Sunday, March 14th until the end of Spring Training on Tuesday, March 30th may be shortened to seven-inning games.""
Obviously, the rule states a five- or seven-inning game, but because of an injury to right-hander Luis Ortiz (ankle) both managers agreed to meet in the middle and play six-innings.
This rule allows for flexibility for both clubs, especially if either team believes they are dealing with an injury or a player isn't fully ramped up.
For instance, because of a late injury to Ortiz, who was scheduled to pitch the seventh inning on Sunday, both managers agreed to shorten the length of the game by one-inning.
The next rule change we saw occurred during the second-inning when Nick Vincent got into some hot water.
NBC Sports has the official ruling.
""For Spring Training game through Saturday, March 13th, Official Baseball Rule 5.09(e) will be relaxed, allowing defensive managers to end an inning prior to three outs following any completed plate appearance, provided the pitcher has thrown at least 20 pitches.""
During this spring training, managers are allowed to end the inning whenever, but mostly when they reach or surpass their pitch limit.
For the Texas Rangers and Nick Vincent, he ended up loading the bases and Chris Woodward ended the inning. Bases-loaded, two-outs.
Many of the new spring training rules have affected the Texas Rangers and the other clubs.
As Levi Weaver tweeted, there could be some frustration between the managers in the future, but we'll have to see how that all plays out over the next few weeks.
The next big rule that MLB has implemented this spring is the removal and re-entry of pitchers.
NBC Sports also has an update on that new rule.
""…Pitchers who are removed during a game are allowed to re-enter at a later point and that all spring training contests, regardless of length, can end in a tie after the schedule length of the game has been played.""
This one in particular is interesting because it's a rule that Major League Baseball may look to establish full time.
Prior to this rule, players or pitchers who have been removed from the game are prohibited from re-entering at any point later in the game, that is according to Rule 5.10.
More from Nolan Writin'
It'll be an interesting development to watch over the next three weeks.
This move eliminates the need for the JICs in camp.
The "Just In Case" players, or minor leaguers up with the Texas Rangers as depth, really won't be needed if pitchers are allowed to re-enter.
All of these rules will take time to get used to, much like the three-batter minimum and runner on-base in extra innings.
As of now they are all experimental, but we may see more rules like these become mainstays in Major League Baseball in the years to come.