Here's how the Texas Rangers can exceed expectations in 2021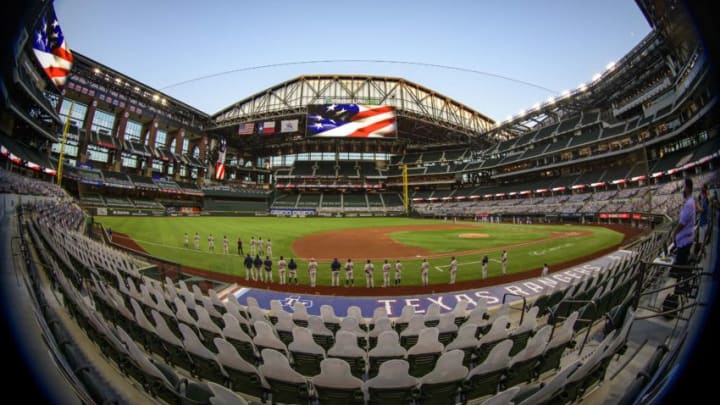 Sep 24, 2020; Arlington, Texas, USA; A view of the field and the fan cutouts and the open roof during the playing of the National Anthem before the game between the Texas Rangers and the Houston Astros at Globe Life Field. Mandatory Credit: Jerome Miron-USA TODAY Sports /
The Texas Rangers are in full-on rebuild mode, but with a few quality performances, some luck and the rest of the AL West underperforming, they could jump into Wild Card contention.
As of now, the Texas Rangers are projected to finish last or second to last in the entire American League, but there are a few ways they can exceed expectations in 2021.
Now, that doesn't mean they'll be World Series champions, but could they win 60 games? 70? 80? Even 90?
A lot of things would have to fall their way, but baseball is a crazy sport and you'll always see something new at the ballpark.
Could the Texas Rangers be the "Cinderella story" of this season? Could they be the Abilene Christian or Oral Roberts of Major League Baseball?
Absolutely, and here's how.
The Texas Rangers can incorporate the Rays' style of pitching and favorable matchups.
First and foremost, as I've mentioned previously, the players and coaches have to buy into the analytical side of the game.
The Texas Rangers have done well so far of really applying the numbers to their preparation, and have seen the results of their patience and hard work.
I mean, ask Wes Benjamin. He was projected as bullpen depth originally, and now he is vying for his fair share of innings in the starting rotation. That's because he bought into the analytics and developing his pitch arsenal off of the numbers.
One thing we'll have to see from the Rangers this season in order to hit those lofty numbers is really playing into the favorable matchups.
We're already seeing the inner workings of this with the tandem starters, even though it doesn't seem like it from the outside looking in.
Think of it this way, if Jordan Lyles starts every five days, going three innings, with his velocity will sitting in the low-90s, he can outmatch the first time through a team's lineup.
However, if you bring out the hard-throwing southpaw Taylor Hearn after Lyles, the opposing team will have to figure out a totally different game plan.
Teams would come into our house planning for six innings of Lyles and Dunning, but end up getting three of them and three of Hearn and Benjamin, as well.
It makes it hard for any team across Major League Baseball to plan accordingly for a quality starting pitcher, but when you pair them with one of opposite traits, you can really throw a wrench into their game plans.
Much like the Tampa Bay Rays utilize their matchups really well, the Texas Rangers can accomplish the same success, barring any "Blake Snell in the World Series" nonsense.
With that being said though, the Rangers will also have to find more success in their starting rotation.
Having the fifth worst pitching ERA in the American League (5.02) is not something to boast, but can definitely be improved upon.
Considering the success had by Kyle Cody and Dane Dunning last year, the revamped arsenals of Kyle Gibson and Jordan Lyles and the unfamiliarity of Kohei Arihara, the Texas Rangers could have a sneakily formidably rotation.
Don't forget to throw Mike Foltynewicz in the mix, as he is looking to find his 2018-2019 form. The return of his velocity and use of the backdoor slider are a potent combination for any hitter, and he's arguably been the steal of the offseason.
The Texas Rangers and Kyle Gibson are looking forward to a fresh start against the Kansas City Royals on Thursday.
Another focus needs to be pitching themselves into favorable counts.
It seemed like way too often, Rangers' pitchers were behind in the count 1-0, 2-0, 2-1 and 3-0.
Pitching aggressively will make them a more effective, efficient and much more bearable to watch staff, especially with some of the defensive upgrades they made this offseason.
All this is to say that the Rangers' rotation can and will surprise some people this season, and with a new mindset and fresh faces, could help Texas exceed some of those low-balled expectations.
The Texas Rangers' offense seeks consistency and an-old "Augie Garrido" adage.
The former Texas Longhorn head coach lived and died by the notion of "small ball wins ballgames."
The Texas Rangers are needing to take a page out of the former Longhorn legends' playbook in 2021.
Something that may surprise Texas fans is that the Rangers did a great job in 2020 of putting the ball in play. They ranked seventh in the American League in IP% (in-play percentage) in 2020, putting 63% in between the lines.
Unfortunately, not many of those balls were hit with a high enough launch angle to produce any sort of damage.
Again, with slumping seasons from almost everyone except Jose Trevino, that shouldn't be surprising.
Only 25% of the balls put in play, including home runs, were considered line drives, according to Baseball Reference. That was the worst in the Junior Circuit, and 2% behind the next worst team, Seattle.
They also tied Baltimore for first in the AL in popup percentage. 15% of the balls put in play were popped up on the infield.
If they can consistently hit more line drives, maintain a higher team batting average (.217 in 2020, worst in AL) and reduce the popups, the Texas Rangers can far surpass expectations with the level of talent they have up and down their lineup.
Especially with big boppers Joey Gallo, Nate Lowe and Khris Davis waiting in the wings, this team could be one of the most potent offenses in the country.
By using the "small-ball" method, Texas can utilize every aspect of their lineup in 2021.
Sabermetric king Bill James developed an advanced statistic called the "power/speed number."
James gave an explanation in an article called "Abstracts from the Abstracts" in the 1980 Baseball Abstract.
""It is so crafted that a player who does well in both home runs and stolen bases will rate high, and his rating is determined by the balance of the two as well as by the total.""
All that to say, the Texas Rangers ranked fifth in all of baseball in the "power/speed number."
Effectively, that means that they had the fifth highest rating of players who used their assets to perform better all-around.
We saw that with Isiah Kiner-Falefa, Leody Taveras and Jose Trevino in stretches last season, and should see similar production from those three, as well as Joey Gallo and David Dahl this season.
Two Gold Gloves are good, but the Texas Rangers need more.
IKF and Joey Gallo shocked the baseball world last season, surpassing a multitude of other worthy candidates for the golden patch on the wrist strap of their glove.
Not to sound greedy or anything, but with the pure athleticism the Rangers have roaming the outfield, we shouldn't be surprised to see a few more Gold Gloves coming to Arlington.
With David Dahl, Eli White and Leody Taveras roaming the outfield, the Rangers have an ample amount of worthy candidates.
If Ronald Guzman is for real like we think he is, he should be in the conversations every year, too.
Texas was not great defensively last season, albeit the two Gold Glovers, sporting a .981 fielding percentage throughout the year and committing 40 errors in 60 games. That's 10th worst in the MLB.
However, as I mentioned before, we have a few upgraded fielders that the Rangers will be running out everyday.
Guzman is far better than Todd Frazier. Any of Dahl, White or Taveras are better than Willie Calhoun in left. Nick Solak was better defensively than Rougie in 2020, as well.
Defensive improvements are sure to come for the Rangers in 2021, but to exceed and commit to achieving these lofty goals, they'll have to look a little deeper later in the season.
The Texas Rangers farm system needs drastic improvements.
The Texas Rangers have one of the most underrated and underappreciated farm systems across all of baseball, but part of that is because they consistently fail to draft and develop quality major league talent.
This year will be different, though.
Josh Jung will be up sometime this season, even after missing almost two months with a foot injury. Sam Huff has shown he can be a big league hitter, as well.
More from Nolan Writin'
Cole Winn, Cole Uvila, Brock Burke and Yerry Rodriguez are all probably going to see time at the game's highest level this year, too.
With the second overall pick coming this June, too, the Rangers could see a drastic boost in the way their minor league system is viewed.
One thing is certain, though. If the Texas Rangers can incorporate any of the previously named skills or tactics and translate that in the minor leagues, we could be seeing elite improvement and elite prospects rising to the big league level.
Look at the Tampa Bay Rays, for example. They have little-to-no money and continue to develop quality big league pitching. Same can be said for the Cleveland Indians.
If the Rangers want to consistently have a top-10 minor league system across baseball, they have to start from the ground up and develop like a few other organizations do.
Don't be identical, but you can learn things along the way.
Take guys like Nick Solak, Nate Lowe and Willie Calhoun, who came up in two of the best farm systems in baseball, and pick their brains as to what the Dodgers, Rays and Yankees did while developing their star talent.
You'd be amazed as to how much those guys remember about their early development.
There is a lot to like about the 2021 Texas Rangers.
Maybe 70+ wins is a lofty expectation for this team, but it's better to dream big than not at all.
Obviously, I'm not saying that by doing all of these things will put the Texas Rangers into World Series contention, but it could pull them closer to being a .500 team.
Besides, even if things don't always swing their way (newsflash, it won't), the Texas Rangers are going to field a good team that will be fun to watch.
Joey Gallo has set himself up to have a bounceback year, as well as David Dahl and Mike Foltynewicz.
Kyle Gibson looks like his old-Minnesota self and Nick Solak has begun to find his 2019 swing again.
With others coming back from injuries and young guys waiting to see the big leagues, the Texas Rangers will be a lot more fun to watch than most people give them credit for.
With a chip on their shoulders, the Rangers will look to flip the script and become the "Cinderella story" of the 2021 season and find some pro-longed and shocking success in the present and future.