Texas Rangers draft rumors: "Hot on the trail" of one high school shortstop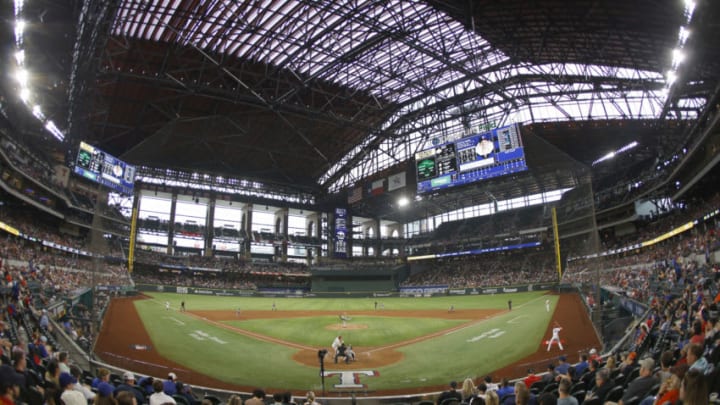 ARLINGTON, TX - JUNE 9: Sammy Long #73 of the San Francisco Giants throws to Eli White #41 of the Texas Rangers during the sixth inning at Globe Life Field on June 9, 2021 in Arlington, Texas. (Photo by Ron Jenkins/Getty Images) /
In a recent mock draft for MLB Pipeline, senior writer Jim Callis had the Texas Rangers snagging Vanderbilt RHP Jack Leiter with the #2 overall pick, which makes sense considering just how dominant he's been at the collegiate level over the past two years (more on Leiter here).
However, it was something that Callis said when discussing some of the Rangers' other draft options that stood out to me, something that surprised me just a tad:
"They've been hot on the trail of [Kahlil] Watson for weeks, and it's possible they could go the high school shortstop route and take him over [Marcelo] Mayer and local product [Jordan] Lawlar."
While there's been plenty of debate on if the Rangers should take a pitcher (most notably Leiter), or if they should opt towards a shortstop (Lawlar or Meyer), this is the first time that I've seen Kahlil Watson's name pop up in conversation. An 18 year old left-handed shortstop out of North Carolina, Watson is currently the #8 ranked prospect on MLB.com's 2021 prospect rankings.
The Texas Rangers have been doing their homework on North Carolina shortstop Khalil Watson.
If the Texas Rangers were to opt against taking Leiter at #2, the general consensus has been that they'd be doing so to draft local kid Jordan Lawler instead. A Texas native who plays at Jesuit Prep, most scouting websites that I've looked at have Lawlar as the #2 ranked prospect in the class, right behind Marcelo Mayer.
More from Nolan Writin'
However, this recent nugget from Callis could signal that the Rangers are looking in a different direction altogether. The phrase "hot on the trail" shows that they've been doing quite a bit of scouting work on the North Carolina shortstop, which could reflect their preference of him over the likes of both Lawlar and Leiter.
Personally speaking, I think you'd be hard pressed to turn down someone of Leiter's ability. Even if he's older compared to some of these high school shortstops, he has the makings of a top-of-the-rotation arm in the near future.
If the Rangers really want to go shortstop though, Lawlar feels like the pick at #2 overall, especially considering his local status. However, it appears we all have to get Watson on our radar now, as the odds of him landing in Texas appear to be higher than initially perceived.