Grading the Texas Rangers' off-season through the 2022 Winter Meetings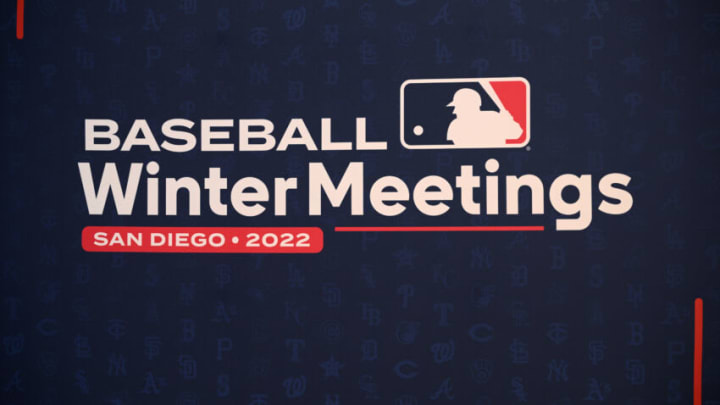 Dec 7, 2022; San Diego, CA, USA; A detailed view of a 2022 MLB Winter Meetings logo at Manchester Grand Hyatt. Mandatory Credit: Orlando Ramirez-USA TODAY Sports /
As the Winter Meetings wrap up in San Diego, we can look back and safely say there was plenty of action. But how did things go for the Texas Rangers' contingent?
It was actually a relatively quiet winter meetings for Chris Young and company, as they only made one major splash. That would be lefty starter Andrew Heaney, whom they inked to a two-year contract worth $25 million.
We can't grade the Texas Rangers' Winter Meetings performance solely on that one transaction, however, so let's look at what the team has done cumulatively to this point to make our best assessment.
Grading the Texas Rangers' off-season through the 2022 Winter Meetings
1. Martin Perez signs the Qualifying Offer
In Chris Young's first move of the off-season, he brought back the Rangers' best pitcher from the 2022 season on the one-year Qualifying Offer of $19.65 million.
Perez is an innings eater and reliable starter who will slot in nicely within a new look rotation for 2023, and we're glad to have him back. The salary is higher than what he should paid ideally, but Perez nonetheless deserves a nice raise after a career year. And in 2023, he doesn't have the pressure of leading the staff. That should help him excel once again.
Grade: B
2. Acquiring Jake Odorizzi from the Braves
Trading Kolby Allard and cash to pick up at worst a back-end starter or long reliever was a stroke of genius from Chris Young as the Texas Rangers enter 2023 with tremendous depth in their rotation. This is something we couldn't say just a year ago.
Jake Odorizzi doesn't wow you with his performance or statistics, but he's far from a bad option to turn to when you need a start or innings in general. Way better than Allard was for this team. He just didn't work.
Grade: B+
3. Signing Jacob deGrom to a five-year, $185 million contract
The ace of aces. That's Jacob deGrom in a nutshell. The Texas Rangers somehow landed the cream of the crop in free agency and a massive boost to their starting rotation.
The price is undoubtedly steep, but considering the Rangers have been hard-pressed to find an ace like this for basically their entire existence. That means even the 20-25 starts they'll likely receive from him every season will be more than worth the cost.
deGrom instantly lends credibility to Texas' rotation and gives them their Opening Day starter for years to come as well as ace for when the team does finally make it back to playing October baseball in the near future.
Grade: A
4. Signing Andrew Heaney to a two-year, $25 million contract
In Chris Young's only transaction during the Winter Meetings themselves, the Texas Rangers landed another pitcher who will bolster the team's starting rotation.
Heaney's 2022 numbers with the Dodgers were pretty good, but he only made 16 starts. However, in those 16 starts, he whiffed over 35% of the batters he faced, a very high percentage. That's something pitching coach Mike Maddux can work with.
The Rangers are obviously banking on Heaney's continued health and success (he's quite injury prone), but if he's got both lined up for 2023, Texas could have themselves an absolute steal for their starting staff.
Grade: B-
Conclusion
Overall, the Texas Rangers should be applauded for their off-season to date, and their work isn't done even as the Winter Meetings have concluded. Look for the team to make more pitching adds as well as search for another bat for their outfield. And you never know what other moves Chris Young has up his sleeves as the off-season rolls on.
Cumulative Grade: B/B+