Texas Rangers: Bumping Starters Cause For Concern?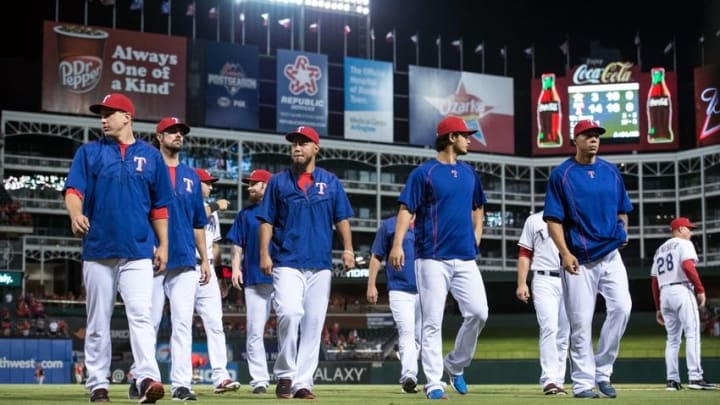 Sep 16, 2015; Arlington, TX, USA; Texas Rangers starting pitcher Derek Holland (45) and starting pitcher Cole Hamels (35) and starting pitcher Yovani Gallardo (49) and starting pitcher Yu Darvish (11) and first baseman Kyle Blanks (88) walk off the field after the game against the Houston Astros at Globe Life Park in Arlington. The Rangers defeat the Astros 14-3. Mandatory Credit: Jerome Miron-USA TODAY Sports /
The Texas rangers were supposed to roll out Cole Hamels today versus the Angels in a possible game that could win them their 2nd consecutive division championship. Manager Jeff Banister has decided to give Cole Hamels an extra day of rest and opt to go with Derek Holland as the starter instead today.
Is this strategy for bumping Yu Darvish and Cole Hamels starts a concern? With the recent sub par starts by both Darvish and Hamels I can understand how bumping their starts can be observed as a concern that something is wrong, I don't think there is a reason to worry.
In Darvish's case you have to remember that this is his first season back from Tommy John surgery and his conditioning may be lacking somewhat so keeping him fresh for the playoffs is first priority.
Darvish has appeared in 15 games this year, pitched 87.1 innings, allowed 76 hits, 42 runs, 37 earned runs, and has 111 strikeouts on his way to a 5-5 record. However recently in his September starts he has gained 2 losses in 3 games played and only pitched 15.2 innings during those games.
His September ERA is 7.47 through those 15.2 innings because of the 13 runs he has allowed off of 17 hits. With these numbers as of late some rest for him before the playoffs may be exactly what he needs to work on mechanical adjustments as well.
More from Texas Rangers News
Now to discuss the true workhorse of the Texas Rangers, Cole Hamels. Hamels has struggled mightily in September through 3 games played he has a 9.88 ERA while only pitching 13.2 innings. He has allowed 15 earned runs off of 18 hits while recording 16 strikeouts but his 10 walks have assisted to him leading the A.L. in walks this year which is irregular for him.
No doubt this would be concerning if it was anyone else but Hamels has always been able to "flip the switch" exactly when it is needed. Because of that trait, it is believed that Hamels may still end up starting multiple games in a playoff series if it is needed. Hamels still has a respectable record of 14-5 through 30 games played and is at 186.2 innings pitched which makes it appear he won't be hitting the 212.1 innings pitched that he did in 2015.
For both of these aces the rest will allow them to work on those mechanical adjustment. It appears that the rotation for the rest of the year will resemble a college rotation in which you have designated Fridays and Saturday starters.
Next: Texas Rangers: Same Ol' Same Ol' With Some Fireworks
Are you concerned about not only the production as of late but the Texas Rangers "aces" needing rest at this point in the season? Who would you round the playoff rotation out with given the recent starts by Martin Perez and A.J. Griffin?