Texas Rangers Looking Forward To Texas Live!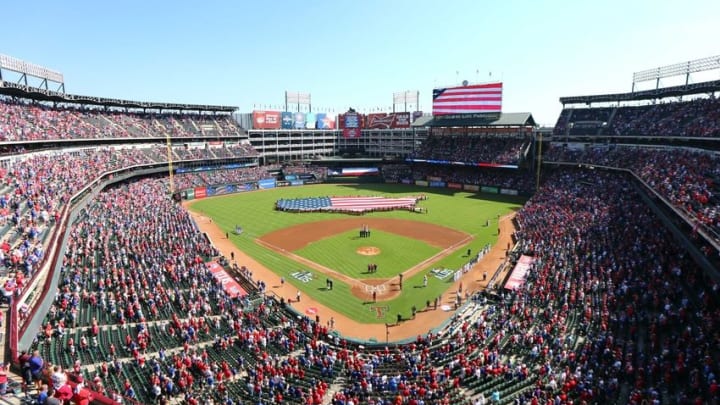 Oct 12, 2015; Arlington, TX, USA; General view of the National Anthem prior to the game between the Toronto Blue Jays and the Texas Rangers in game four of the ALDS at Globe Life Park in Arlington. Mandatory Credit: Kevin Jairaj-USA TODAY Sports /
This Magical Texas Rangers season is the best kickoff party for what is about to be built in Arlington, Texas. An entertainment complex just off of the Texas Rangers Globe Life Park and close the Dallas Cowboy's At&t stadium is set to be on of the best fan experiences in sports.
"Texas Live!" is the name of the entertainment complex set to be opened as soon as 2020. Texas Rangers co-owner Ray Davis expressed at a news conference Tuesday, "We're looking forward to the beginning of building the Texas Live!" He also made a bold statement that the surely encouraged the Ranger's fan base, "[looking] to start immediately after winning a World Series."
I believe that he absolutely means this upcoming World Series because that is looking like the one place this special Rangers team is going to end up. Not only is this entertainment complex going to be built but it is presumed that a vote will be passed by the city of Arlington on Nov. 9th to approval funding and build of a new retractable roof for the ballpark.
Portions of the entertainment complex were made public by Blake Cordish, vice-president of the Cordish Companies who will be constructing this gem. He unveiled three areas of "Texas Live!" that will be developed.
More from Texas Rangers News
"Rangers Republic" will be the "ultimate fan clubhouse" with a 30,000 foot dining and entertainment venue. "Live! Arena" will be a 35,000 foot living room of the complex being the key gathering spot for Ranger fans.
Finally the key feature so far will be "Arlington Backyard"- a 5,000 person outdoor pavilion that will surely host concerts, festivals, and anything else fun that they can think of. There will also be a premiere hotel within the complex that will serve as the place to stay in Arlington for any Rangers or Cowboys event.
As long as the approval of the $1 billion addition to the ballpark (with climate-controls) then the presence of that coupled with this entertainment process may be exactly what is needed to bring the MLB All-Star game and even the Super Bowl again to Arlington.
Ray Davis has expressed that he hopes to complement the ballpark in Arlington and in no way does he want this new addition to take away from how beautiful a stadium it is. The Cordish Companies that will lead development has worked on projects in both Baltimore and Kansas City. Those developments have rejuvenated their locations and are featured and talked about amongst sports in general.
Next: Texas Rangers: Bumping Starters Cause For Concern?
I am excited to see the addition of these two key developments and what they will bring to the Arlington, DFW atmosphere. What do you think of them? Are you in support or would you like to see the money spent elsewhere?