Rumors: Texas Rangers, Cardinals battling for free agent Marcell Ozuna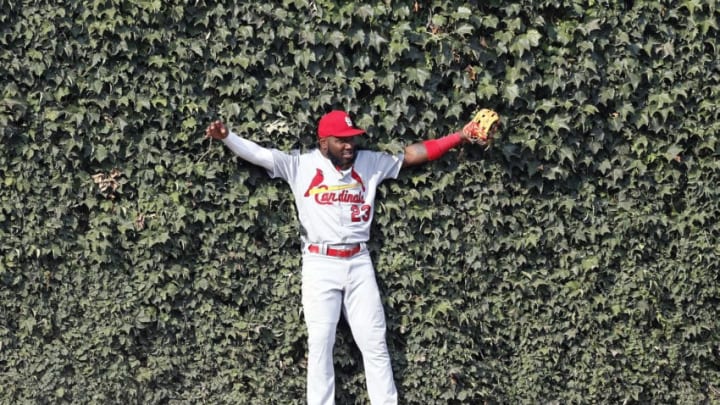 CHICAGO, ILLINOIS - SEPTEMBER 20: Marcell Ozuna #23 of the St. Louis Cardinals reacts after catching the fly out by Kris Bryant #17 of the Chicago Cubs during the seventh inning of a game at Wrigley Field on September 20, 2019 in Chicago, Illinois. (Photo by Nuccio DiNuzzo/Getty Images) /
Just a day after signing top free agent catcher Robinson Chirinos to a deal, the Texas Rangers have been reported as one of two finalists for Marcell Ozuna.
One of the three best remaining free agents on the market, Marcell Ozuna seems to be narrowing down his list of potential teams as we move into mid-January. Ozuna reportedly has narrowed down his suitors to two clubs, the Texas Rangers and the St. Louis Cardinals with whom he's spent the past two seasons. Neftali Ruiz who covers baseball from the Dominican Republic reports that Ozuna would prefer a return to the Cardinals but that the Rangers are his second option.
While it's never fun to be a backup plan, it is good to see the club in the final two for a quality free agent. In a translation from Hector Gomez who works as an MLB Insider in the DR, Ozuna said, "St. Louis is on the hunt. We will see which one of the two will be (Cardinals/Rangers). I've been in St. Louis and I like the city. My first option will be St. Louis. If they step up I will stay, if not I will find a new home."
It's certainly understandable why Ozuna would want to return to St. Louis, a town and team with which he's comfortable. But there's still questions on whether the Cardinals consider the 29-year old a part of their plans for the 2020 season. St. Louis has a bit of an overstock of outfielders right now and some talented ones for that matter. As of now, MLB.com slates them to have a starting outfield of Tyler O'Neill, Harrison Bader and Dexter Fowler. O'Neill looks like their future left fielder and is a talented 24-year old that the Cards likely won't want to take at-bats away from. Our friends over at Redbird Rants have speculated that Ozuna won't be with the club in 2020 as they pursue other avenues.
That could open the door for Texas to move for the career .273 hitter who has been a highly touted hitter for much of his career. Last season he had a bit of a down year hitting just .243 with an .804 OPS but saw his walk rate increase to a career high 11.3% in 2019. Steamer projects Ozuna to post a slash line of .276/.344/.503/.848 with 33 home runs. That would very much be a welcome addition to a Rangers lineup that is lacking in right-handed power.
More from Texas Rangers Rumors
Like St. Louis though, the Rangers also have a bit of a set outfield at this point. Ozuna has only played left field over the past two years which is also the same spot that Willie Calhoun is more or less relegated to defensively. Texas will want Calhoun's improving bat in the lineup and DH isn't an option in 2020 with Shin-Soo Choo under contract. Ozuna came up a center fielder but it's been two seasons since he was in center and he wasn't spectacular when he was there. While he's got the glove to play right, his arm isn't great and Joey Gallo is cemented as the club's long-term option there.
Maybe Texas just swallows the problem of clutter and signs Ozuna to play left field knowing Calhoun can move to DH in 2020. It would take a lot of rotation to get everybody in the lineup regularly but for long-term purposes this would be an easy route. Another option is trying Ozuna at first. The club has been linked heavily with other top OF free agent Nick Castellanos and specifically with the idea of moving him to first base. Texas could try something similar with Ozuna keeping Calhoun in left, Santana in center and Gallo in right. That would have Ronald Guzman as the odd man out but at this point, his bat is more expendable that the aforementioned names. This would be the route I would try if I were the Rangers and hope it could hold at least for the 2020 season. Then, like mentioned above, Calhoun could replace Choo at DH and Ozuna could move back to left field.
There's a lot of variables in play and no doubt Texas already has a plan that they've communicated to Ozuna. If he winds up in Arlington it'll be a significant addition to the middle of the order which is severely lacking in consistent production. Considering it's down to two teams, this could mean we're going to get a decision in the reasonably near future.